A new channel started on Sky and Freeview last week, UKTV Drama.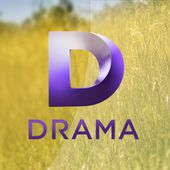 A brand new channel bursting full of dramas and comedies, available to all British viewers on Freeview 20.
It certainly looked packed full of those programmes I wouldn't mind seeing again/had missed the first time around due to …life!
The adverts showed a FreeView channel number but not a Sky channel number, so I tweeted Sky the day before to see if they knew which channel number Drama would be allocated. As, I noticed, did many other people.
I didn't hear back from Sky (nor did others) and did a Google search on the day and very quickly found the channel number, all was well.
Then I had this exchange with Sky via twitter: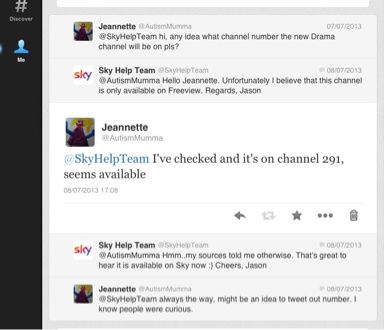 From that you can see that, despite the channel having been up and running since (I believe) 9am that morning, the person tweeting for Sky wasn't aware of details at 5pm. I found it within a minute.
What's happened to good old initiative? If you are sent a question and you work in a customer-facing environment, you make the effort to find out an answer before just going back and saying "no", surely?
Especially as there is so much information literally at people's fingertips these days.
Baffles me…but what I do know is that I really enjoyed watching this "Birds of a Feather" episode, just for the scenes where Dorian is trotting on the treadmill. 2-3 minutes into the video below. Comedy at its best, Lesley Joseph was brilliant in that role.
Well worth a look through the listings, UKTV Drama is on Sky 291.
---
---