It's a weary household tonight, thanks to the tooth fairy! D got very excited when she found a "gold coin" – aka a £1 coin – under her pillow and the conversation from 4.30am went something like this:
"Mumma, it's a gold coin, a GOLD coin like in my treasure chest. Shall I go and get my treasure chest so we can see?….it's a pound coin, a pound coin for my piggy bank, lets count my money and see if we have enough for my crystal?…is it breakfast time now?…I'll just get my I pad…"

The quote above was taken from my earlier blog today http://www.autismmumma.com/something-you-miss-blogadayjuly
Not surprisingly it's been a weary household tonight but, in T's case, a far less agitated one.
Not only has he now got his long-awaited badge but he knows his teacher for next term and class location. There are two class groups for every year so he had definite ideas about which group he wanted to be in..and he's happy. He's been getting so very (quietly) anxious with the uncertainty, proof that a longer transition period than his peers will definitely be necessary.
We also know the details for D, I didn't recognise any of the staff names but I'm sure there'll be a few visits to the new classroom location before the end of term next week. We normally get a social story sent home too, showing the staff and an indication of which of her classmates will be with her. As she's been the only girl in a class of eight, it would be nice if there was another girl but she's managed very well (on the whole) with seven boys.
School reports for both T and D came home today and they were both very positive, proof that they are both in the right settings for them.
For T, that is mainstream but in a very autism-friendly positive environment. There are 2-3 autistic children in every class and the day is very visually structured. They have also taken into account his high functioning element and incorporated computer time at the end of the day for him because he finishes the work set ahead of the other children.
For D, it's a small class, high staff ratio setting in a special needs school, she's been there 3 years now. In a class of 8 children with 4 staff. She couldn't cope physically and emotionally in a mainstream environment and has absolutely thrived, the recent sports medals and participation in singing in front of a hall of people are resounding proof of the fact she is in the right setting for her.
So, big gold stars for both of them and that meant a few more gold coins for their piggy banks, something that delighted them both. Fortunately I think D was too tired to want to count her bank's contents again.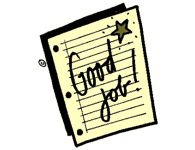 So, a very weary but very proud household tonight. Hubbie's dog-bitten leg is healing well too. A much better day all round.
I hope everyone's day has gone well, comments/RTs/shares as ever welcomed, thanks for reading Jx

---
---