It's a strange existence being a special needs parent blogger, you gain and share empathy and experiences with people you're never likely to meet, but because they "get" what you're saying, you share a bond. A bond of wanting and needing acceptance for your child (or children).
You blog, your posts become read, you even get shortlisted for awards, you realise that by sharing your experiences it helps both you and others.
But people closer to home don't approve and make it clear they don't. And never will. This is the theme for today's poem, linking in with @vicwelton at http://www.vevivos.com.
Blood versus Water
Blood is thicker than water, or so "they say".
I wish one metaphorical wave would take your ignorance away.
You don't approve of my blog, you got someone to say as much.
It's a therapeutic release for me, an emotional crutch.
So, your child is "perfect", he's "one of a kind".
Congratulations, be thankful, now try and accept mine.
Maybe someday you'll see, just what I'm trying to achieve.
I'll get awareness widespread for everyone on the spectrum, I know you don't believe.
Your glares and your silence, it's all hurtful too.
You just don't understand, the damage you do.
If "blood is thicker than water", ours must be diluted.
I hope one day you accept and understand my children and those you see as "different", a need for awareness and acceptance is deep-rooted.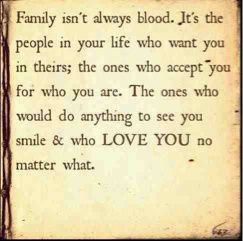 ---
---