How much do you spend on laundry products a week? A month?
It's not cheap is it. The tablets we use work out at £2 a week, they've recently jumped in price to £3.35 a week. Multiply that by 52 weeks and that's £174.20 a year (excuse me whilst I fall off my chair!)
Factor in the sensitive skin issues that my family all have – a telltale itchy rash will appear very quickly if the incorrect laundry product is bought – the fact that the children's sensory issues may mean that clothing can smell "wrong" and the chemicals released into the water during a cycle all mean that I was on the lookout for something new and cost-effective to try.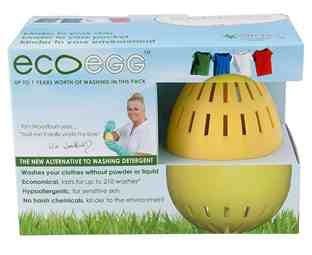 I was delighted when ecoeggo.com agreed for us to give an ecoegg a trial.
Here's some information from the website:
"I'm Kim Woodburn, celebrity Queen of Clean, best known for my time on channel four's "How Clean is Your House" and ITV's "I'm a celebrity". Ecoegg specialise in manufacturing a range of eco-friendly cleaning products and I am proud to endorse them. Ecoegg are revolutionising the way people wash their clothes all over the world.
Ecoegg products are all:
• Kinder to your skin
• Kinder to the environment
• Kinder to your pocket
Change the way you wash your clothes, for less.
The ecoegg laundry egg is saving people so much money up and down the country!
The ecoegg laundry egg is the revolutionary new way to wash your clothes. It completely replaces washing powder or liquid and is just as effective but will save you so much money.
The ecoegg laundry egg lasts for up to 720 washes. For the average family that does 4 to 5 washes a week, it'll last for 3 year's worth of washing. Imagine never having to buy washing detergent for the next three years – think of all the money you'll save!
– Saves you so much money – never buy washing detergent ever again
– Hypoallergenic – great for sensitive skin, supported by Allergy UK
– Eco-friendly – great for the environment, no harsh chemicals, far less pollution
Easy to use
Simply place the Ecoegg laundry egg on top of your laundry in the drum of your washing machine and wash as normal – no washing powder or liquid needed.
It's not magic – it's science
The Ecoegg laundry egg is packed with our unique scientifically forumlated, hypoallergenic cleaning pellets. These pellets naturally activate in the water to gently lift away dirt and grime, without using any harsh chemicals.
It works – it's proven to remove dirt and grime
The ecoegg is scientifically proven in one of the UK's leading product test laboratories to remove dirt, grime and stains.
Hypoallergenic – great for sensitive skin
The ecoegg is supported by both Allergy UK and the National Eczema Society.
Fragrances now available
The ecoegg is now available in either Soft Cotton or Spring Blossom fragrances, in addition to the original Fragrance Free option."
The one (ever-so-slight!) problem I had is that I currently don't have a working washing machine so we not only tested the ecoegg but also someone else's washing machine!
So, how did we get on?
I tested the ecoegg on a 30degree fast wash. The egg is placed on top of the washing, inside the drum and the pellets inside the egg "naturally activate in the water to gently lift away dirt and grime".
And they did! D has a habit of wiping her hands down her clothes when she's eating (as does T), despite having wipes nearby and being requested to use them, I think it's involuntary. Consequently, clothes get marked and of course, Mr Bluecrisps is a manual worker – painter – so his clothes get sweaty and dirty as a matter of course.
I wasn't sure whether the combination of ecoegg, rapid wash and low temperature would produce results, but they did! Obviously for more soiled/heavier items, I'd use a higher temperature and longer wash cycle but I'm confident of success.
A big bonus for us is that we've had no sensitive skin reactions and the egg is fragrance-free so no sensory issues either.
The egg is refillable and the pellets are available from the original point of purchase (click here for stockists).
As a price guide, the ecoegg (54 washs) we were sent (which should last the average family for three months) is available from Argos at £9.99, with refills at £6.99, a vast improvement on price and environmental impact.
The eggs are also available in 210 wash and 720 wash sizes, with dryer eggs available too.
It's the sort of product you wonder if it will work, then – due to environment and sensory issues – are so grateful it does.
The egg needs to be kept out of the reach of children, as with any laundry product, the twist-off refill mechanism being easy to operate.
Disclaimer:
We were sent a fragrance-free 54 wash pack ecoegg for the purpose of this review, my views are my own.
---
---