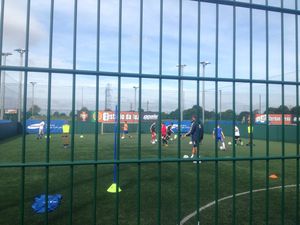 Here's my little man this morning, living his dream, training with some coaches from the Chelsea academy.
A mix-up over timings via his football manager meant that we had to turn up and hope for some no-shows. Not ideal for a child who thrives on routine and knowing what will happen and when.
So, some anxieties this morning but there was a place.
He enjoyed himself, he dribbled, he defended and he scored.
And now he's gone off to his football tournament sufficiently warmed up.
Hopefully he'll come back with a medal later but if he doesn't, he's had a great morning anyway.
---
---