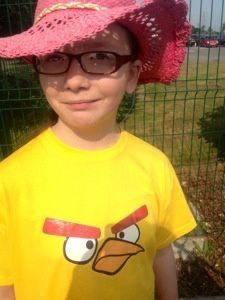 This was D yesterday morning, my nervous but excited girl, on the way to her school sports day.
She's at a special needs school due to her anxieties and autism, mainstream sports days just didn't happen for her – unfamiliar/too many people, too much noise (from her perspective). We'd have the practice, the build-up, the change of clothes and then anxieties would overtake at the last moment.
Prose 4 T is being hosted by @EllieAllAtSea this week and I'm linking up with this:
A sports day medal:
Longed for, dreamt of, for days if not all year.
The absence of one would cause some tears.
Running fast, throwing far,
Trying her best.
She did it! She came second, she was (nearly) faster than the rest.
Angry bird tshirt worked,
She almost flew down that track,
She was aiming for me, cheering and standing at the line,
Nearly knocked me onto my back!
Tears turned to joy now, smiles and hurrays.
The event is over, a good way to spend a day.
Medal placed under pillow now,
Held close at night,
She did her best, my angry bird D,
A good ending was in sight.
---
---