There is a happy 9-year old girl settling tonight, she's added a medal to her little collection.
Her brother, T, is so sporty both in his thinking and how he plays, that he has quite a collection of medals and trophies. D doesn't say, but with her fascination for shiny and sparkling things, I'm sure there is a bit of coveting that goes on.
At last year's sports day, D won a silver and a bronze so she definitely had an expectation, even though – of course – it's the taking part that counts,
This morning's individual activities went really well, as long as she could see me, she participated and enjoyed herself. I did have a prolonged insight into WW2 from a fellow classmate who is fascinated by anything connected with that and wanted to turn javelins/golf clubs and hockey sticks into weapons *gulp*.
Here's some pictures from this morning:
A nervous but excited D going into school:
The morning session ended with a inter-house tug-of-war, which had pupils, teachers (and me!) joining in. A tad competitive but very good fun!
Parents and carers weren't allowed to be on-site at lunchtime so I left a clingy D for a while.
The afternoon's events were running, egg and spoon and wheelchair racing. It's always a bit humbling seeing the wheelchairs and the walking race for those with physical disabilities, there is always a fantastic atmosphere with music and lots of supporters.
D had a wobbly meltdown after her first race, when she came 4th. There were tears, shouting, bolting and a complete and utter refusal to take place in anything further. She came around eventually but definitely wasn't the only disappointed child on the field.
Her next race was a relay and I've found with D that it's best if I stand at the finish line and basically wave, jump around and shout encouragement in her eyeline so she has something to focus on and aim towards. It works! She absolutely powered down the track, passing over the baton and nearly bowling me over. Her team of 4 came second!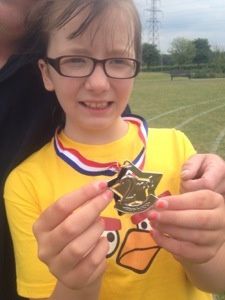 One delighted D, two very proud parents and several relieved members of staff.
Yes, it's all about taking part and I'm so glad she is able to (mainstream sports days were a no-no) but a medal is a very nice reminder for her.
T's had a good day, he's been very pleased for D that she got a medal and her good mood has been infectious, they've had some bouncing fun on the trampoline in between mine-crafting.
I think it's a "normal" day for both of them tomorrow, after the excitement of the last couple of days, would be good to get back to a semblance of routine.
I hope everyone's had a good day, comments/RTs/shares as ever welcomed, thanks for reading Jx 😘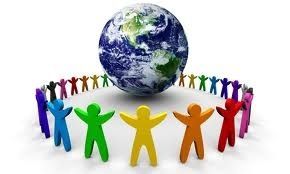 ---
---