I got a bit stuck with today's #Prose4T, normally I have a subject, a title and I'm away! I started and deleted two posts about different but relevant subjects before this one.
To give some background, we have two cat sisters: Itsey and Bitsey. Bitsey is a guard cat, a grumpy-looking fluffball and Itsey is quite possibly the springiest cat ever! She doesn't run, she bounces! She always jumps if a leaf flies past her, so spends most of her days like this: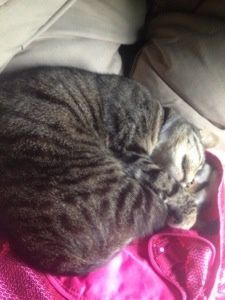 Shall we switch places?
It must be easy being a cat,
Not having to worry about this problem or that.
Spending your whole day sleeping in the sun,
miaowing at overhead birds is your idea of fun.
Occasionally giving out a purr if it suits,
You like to rub up against leggings, trousers and boots.
Out for the evening then creep onto a warm bed,
Curled up into a ball, paws over your head.
Wouldn't it be funny if we swapped places for the day?
You go on the school runs, I'll purr, snooze and play…
Oh, with a worm? No thank you, that's gross!
Let's each stick to what we both do best the most.
I'll carry on being a Mumma, a wife and daughter too,
You go back to sleep Itsey, sorry to disturb you!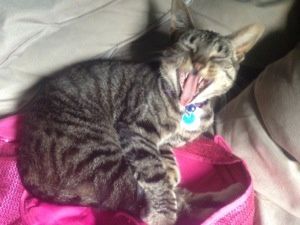 ---
---