A month ago I was practically burbling over with excitement:
D was a day away from celebrating her birthday, a very exciting time for her as she'd never really recognised birthdays up until the last couple of years.
And I was shortlisted in the Brilliance in Blogging awards, something which I felt very humbled about. I don't go by stats and traffic and blog for the enjoyment and awareness-raising. The spam and nasty comments are a downside but there's a delete button for a reason.
Two days later, everything changed.
I wasn't a finalist in the awards. I felt bitterly disappointed but felt I'd let everyone down who may have voted, who may read my blog, I felt I'd let down my children. T, in particular, was very proud of me and wondered what a trophy would look like, he decided it would be fingers tapping on a phone screen – bless him!
I have to admit that I cried and felt a bit sorry for myself, that I wasn't doing it "right", that I wasn't in the blogging cliche that seems to exist. I felt like the chubby girl chosen last in PE, except I wasn't chosen.
I felt sad that I wouldn't be attending the ceremony, I hadn't been organised enough to get a ticket to BritMums Live and it was too late.
Lovely Kate, who writes for BritMums ran a competition to give away a ticket and I decided to enter, fingers crossing.
Another day later and my world as I know it, turned upside down, back to front and inside out.
Suddenly the ceremony didn't matter anymore, the thought that I wouldn't be going paled into insignificance.
My mum, who'd been showing the symptoms for years, was diagnosed with kidney cancer and neither radiotherapy, chemotherapy or an operation were an option. The consultants were not prepared to perform a high-risk operation.
Focuses change when news like this reaches your family, they have to.
I definitely won't be going anywhere far away from a hospital in the next few days.
Last week, in a dramatic u-turn, they agreed to operate on my mum, she (assuming there is a bed) has the very high-risk operation tomorrow.
There are very mixed feelings going around my head, this operation will either prolong her life or end it suddenly tomorrow, there are no guarantees with anything.
I could be doing the school run later and be hit by a bus – I sincerely hope not! – but in this situation, everyone that needs to know is aware of tomorrow. She's spoken to and told who she wants to tell, she's seen who she wants to see.
It will be a case of waiting and hoping.
Obviously had I been a finalist in the Brilliance in Blogging awards, I would have had a decision to make as to whether I attended – it would have been a no-brainer, I wouldn't have.
So I'm grateful that the decision was made for me, both by the BritMums judges and Kate, her ticket went to a very deserving mummy blogger.
Next year though, I'll be there with bells on! I just need to get through the next few days/weeks/months first.
Fingers tightly crossed.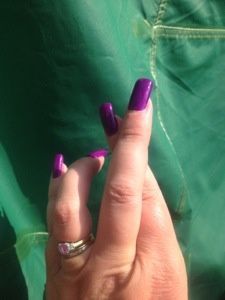 ---
---