We have an anxious little man this week, T aka Mr Pick.
Football is quite simply his life, he's lived and breathed it from the time he could focus on a television screen and once he could kick a ball, he was off!
It's his obsession and his calming mechanism. Every Tuesday you can guarantee the first question he'll ask me is "did Match come?" – a football magazine that he subscribes to. It is literally devoured, assuming it's arrived on time, for stats, news and pictures. If it hasn't arrived, he's extremely disappointed and wants to ask our postman why.
As well as being a stat-man about his football, he's also a good little player, a left-footed defender/midfielder and, is very tactical and knows in advance when to get into position.
We were really pleased to find out that Chelsea and Samsung would be running free coaching sessions at our local Goals Centre twice this year, once in a couple of weeks, once in October.
One problem though, it was Facebook bookings only and …guess who's not on Facebook? Yep, that would be me. The Goals Centre were quite frankly useless about it, all they could suggest was Googling the event as they didn't know timings, bookings anything.
Eventually I found an email contact and although T's football manager had advised us there would be a football tournament in the morning, the afternoon would be free. Correspondence started with regard to an afternoon session booking. There were no spaces in the afternoon but still spaces in the morning but T was happy to be going along, soaking up the atmosphere and hopefully slotting in if there was a no-show.
Then the bombshell. The manager had got the timings wrong, he hadn't bothered double-checking. The tournament was exactly in the afternoon. T frustrated but as there had been spaces in the morning, I fired off another email on Saturday and we waited for a reply.
You can guess where this is going…. All the remaining spaces have now been taken. Had the manager got the timings correct in the first place, T would have been booked on and eagerly looking forward to attending.
But right now, he's upset and very anxious. For an autistic child that needs to know exactly what is happening and when, this is causing him problems. There is nothing I can say to put it right, apart from promising that we'll go on the morning and hope that there is a no-show.
T is offering all sorts of scenarios and rationale as to why would people book and then not show up.
I can't make it any easier for him and with ten days until the sessions, I can see him getting more and more anxious.
Part of me is absolutely furious that the manager didn't bother to double-check timings and just assumed it would be the morning. I did double-check with him before I started emailing about sessions and that's what he stuck by, until he found out otherwise.
Part of me feels guilty that I'm not on Facebook because I could instantly have seen which sessions were still available. A Facebook thingy would mean I could enter competitions, see more information about events and reach more people but I still don't want to, I've seen the screenshots of pages verbally attacking autistic people and encouraging physical attacks.
So, we're counting down and I'm really hoping that there will be a no-show at one of the sessions, there will be one disappointed Mr Pick if there isn't.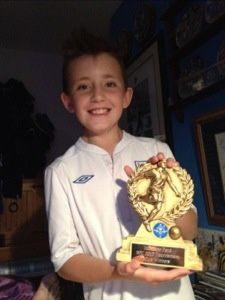 ---
---