Fathers Day in the UK – a day that has been overrun by commercialism but an opportunity for dads everywhere to be appreciated and receive cards like these: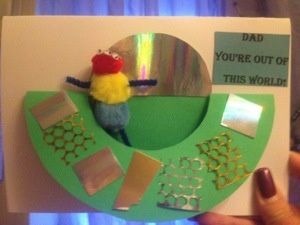 The top one made by T, with a little certificate inside and T's perceptions of his dad's good points and (which was lovely) a little note thanking him for always taking T to football.
The other card made by D, it's an alien. Some lovely writing from D inside, she does find writing very difficult so cards/little notes are very special.
Mr Bluecrisps adored them both and I think there was a teeny manly tear in his eye.
We went into town today for lunch and it was busy for a Sunday. D attracting quite a few stares, Hubbie noticing them more than me, I'm a tough old boot!
D loves going into the Swarovski shop in town, I did used to worry she'd be a bit "bull in a china shop" but the majorly of pieces are behind display cabinets and, having an immense liking for shiny things, she likes to look at them all.
She's currently saving up her chores money for this: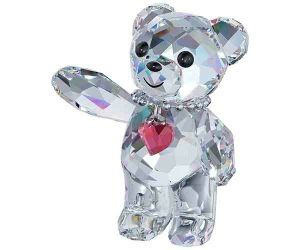 The cutest little (fragile) Kris bear, I do have concerns about its fragility but I think she would more-than-likely carry it around in her handbag, in its box.
T was very pleased, he managed to find his football magazine AND have a quick play on some football apps in the Apple Store, there is a definite theme with T, bless him!
Two settling and happy children tonight, one happy Hubbie. A good day.
I hope everyone's day has gone well, comments/RTs/shares as ever welcomed, thanks for reading Jx 😘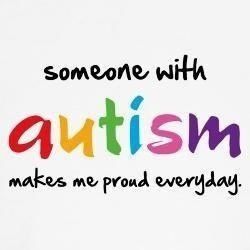 ---
---