In Jaime at oliversmadhouse.co.uk well-earned holiday break, I'm taking over the Mark Warner Active Family reins for this week.
My personal aim for Active Family is to get us outside, away from the I pads and the games console, out in the fresh air, having fun and creating good, happy memories, whilst at the same time being active. It will benefit us all.
So please link up with an old post or new, or even just a picture. The only criteria is that it's active and it's about your family.
Here's our post this week:
The sun finally broke through the clouds last week and we enjoyed it.
For weeks, every time there has been sunshine for more than half an hour it's been "can we get the pool filled Mumma?" Bearing in mind we have a frame pool rather than a pump-it-up one, the filling isn't instantaneous and needs to be planned.
We settled for a frame pool after going through two pools a year thanks to little paws and not-so-little claws, I'm not sure why my cats prefer "banned" swimming pool water as opposed to fresh water in their bowl!
The advantage of the frame pool is that it has a filter, pump etc to, so once the water is in, it's in and the pump (and tablets) ensures it stays fresh and doesn't go green (yuck!).
So, pool eventually up and my not-so-little water babies and I have made the most of it, splashing and swimming! The focus is sometimes more on the splashing but even that's good exercise as the muscles are working against the water.
It's something that's going to be a big part of our summer and the UV tent cover means that we'll be additionally protected from the sun whilst we're in there. It also allows a degree of privacy, we are overlooked on both sides and my wobbly bits are mine, not for public consumption!
Obviously I haven't wanted to get my phone wet, so here's the sight that greets us every afternoon, Mr Happy Shark waiting for us to jump in and have some fun, which we do!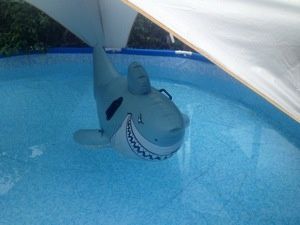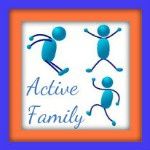 This is a linky so please link up with your posts below and leave a comment. I will read, comment and publicise every linked post.
Thanks for reading Jx

---
---