The sun has been trying to peek through the clouds and the children are counting down to the summer holidays. They're not that far away, 5.5 weeks (ish) if you're in England, 3.5 weeks if you're reading this in Scotland.
It's time to think about activities that are going to energise wear out the children, keep them occupied and happy. As I used to get told "you're only young once".
Despite the fact we're in early June, there are sales starting and an opportunity to grab some bargains.
Chad Valley at Argos have got some great offers on outdoor play equipment going on at the moment and I wanted to share my favourites from their vast selection:
Firstly, a trampoline. So beneficial for children and my two not only use it for activity play but also as a calming mechanism. I liked this one as it's perfect for the smaller garden, the enclosure being a must-have: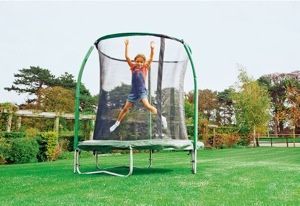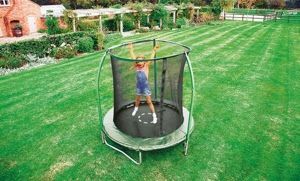 Chad Valley 6ft Trampoline and Enclosure
The Chad Valley trampoline and enclosure is a fun and safe way to get kids actively playing. They are a big hit with children and the perfect disguise for a bit of exercise! The trampoline includes comfort padding on frame and poles as well as an internal safety net and safety pads made from weather resistant material. Great for improving strength and co-ordination.
· RRP: 84.99
Next on my list of "likes" was a bouncy castle, this is not only great for single play and multiple children too. I defy anyone to go into a bouncy castle and not smile. Not only can you take a shed load of balls in there and watch as they bounce everywhere but D's always enjoyed taking balloons in there (weather permitting):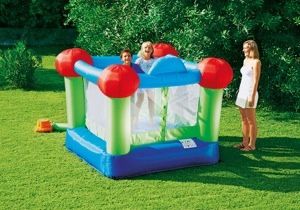 Chad Valley 6ft Bouncy Castle
The Chad Valley Bouncy Castle allows children to have their very own party experience in the safety and comfort of your garden. A great way for youngsters to socialise with friends whilst exercising by jumping, leaping and bouncing about. A fantastically fun way for children to improve balance in cushioned surroundings.
· RRP: £99.99
And lastly, a pool. We'd had this size of pool for a few years, it doesn't take long to fill and it's big enough for a few children to be in at once. Small enough to fit into most gardens but big enough for fun!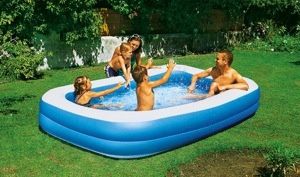 Chad Valley Family Swim Centre Inflatable Pool
Not only does the family paddling pool provide the perfect opportunity to cool off on a hot day, it allows children to interact with their siblings and parents whilst playing in the garden. It's size means children can stay moving and active while mum and dad relax and enjoy the sun.
· RRP £19.99
Get in quickly with these prices as they're reduced for a limited time only.
Happy Summer! Jx
---
---