As regular readers of my blog will know, there are a few things that are very important to D (my 9 year old daughter with autism):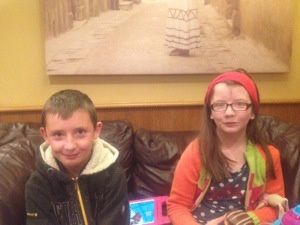 (That's her in the picture with T, her brother who is also diagnosed on the spectrum)
I'd say her priorities are:
Bunny – her anxiety soother, her little companion who is carried everywhere, either held in her hand or tucked under her arm if she's drawing
Drawing – a calming mechanism, D mostly draws positive images but has drawn one before of her anxieties and how it effects her, which is very useful to me, as her parent.
Food – D is governed by her belly. She likes her meals at set times and her particular foods. Her little sensory nostrils will start twitching if anyone eats outside those times and, she'll decide that she's hungry so it's beneficial for her health that we stick to those times.
Me – that sounds egotistical but a bear hug/a soothing word seems to make issues better quicker. The downside is that she stores any negative elements up from her school day until she sees me so it is a case of establishing causes and effects gently but speedily on our journey home.
Going back to the drawing, it is a fantastic release for her. I wrote a post last year which contained examples of her drawings and her explanations of why she'd drawn them, it was lovely to revisit it this morning.
One constant subject in her drawings is Bunny, faithful old Bunny, getting more worn and threadbare with each day: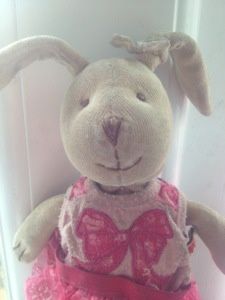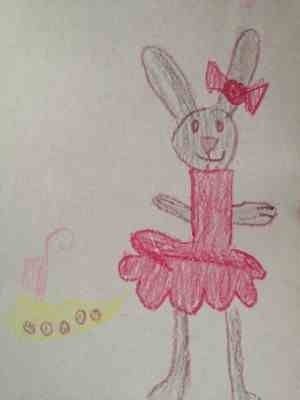 We enjoy looking out for Bunny-type images in art and were delighted to find that Castle Galleries in town stocked Peter Smith artwork that we could take a look at (also available online, click on the link).
We particularly liked Thumpers In Jumpers (the bunnies look so similar to D's Bunny!):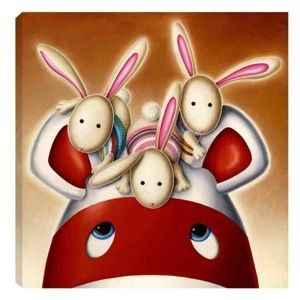 And Meet The Family: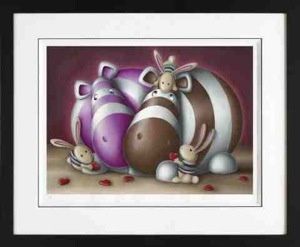 Peter Smith will be visiting the Gallery towards the end of the year, we're definitely going to pop along and say hello. Click here to go to the Events section of the website where you can find out when Meet The Artist events are happening.
I hope D never looses her willingness to draw her feelings, it's so calming for her.
I'm going to share a picture of a painting we have in our hall. It's an original and a definite one-off:
It's of me, painted by my paternal grandmother, who was a published artist and in her prime had exhibitions in New York, London etc. She passed away in the 90's but made a good living from doing what she enjoyed. It's nice to have a momento of her.
---
---