It's always a challenge finding shoes that are affordable, practical and in stock! There's nothing worse than coming back empty-handed from a specific shopping trip, especially with special needs children.
So, D and I were very pleased to have the opportunity to review a pair of shoes each from Shoe Zone.
I must admit, I hadn't heard of Shoe Zone before but their stats are impressive:
"currently trades from over 550 stores throughout the UK and Ireland. Selling over 25 million pairs of shoes per annum, equivalent to 50 pairs every minute!"
Of course, there is the online site too, which we eagerly went on to.
There was a lot of choice, D – despite just turning 9 – is an adult size 3 and I'm a size 8 and we found plenty to choose from in shoes, sandals, boots and trainers, all well as bags.
Here's what we chose:
D went for this: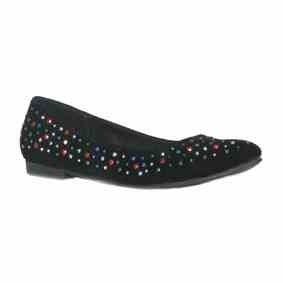 A Lilley Women's Black Suede Effect Ballerina Pump at £9.99, reduced from £12.99. She was very attracted to the gem stone effect all around them and drew a picture in anticipation:
I went for these: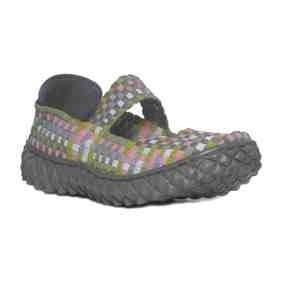 A pair of Adesso Women's Flexible Multi Coloured Woven Shoe at £29.99.
We ordered online and they were delivered within two days via courier.
So, what did we think?
The service from selection to checkout to delivery couldn't have been easier. Although we weren't in when they were delivered, the package was left in a very secure place with a card put through the door.
Here's D in her shoes, they've been tested on the trampoline, in the garden and she's worn them to school today.
She thinks they're "great" and says they are comfortable.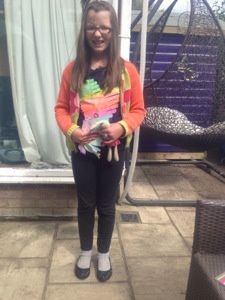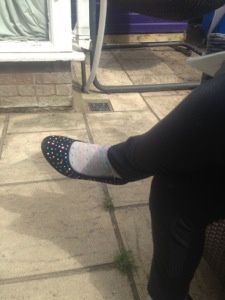 My shoes are fantastic, I love the woven effect and because it's all elastic weave they are very comfortable, the rubber soles providing a light weight alternative to my usual summer wear when it's been raining too.
There is the option of wearing them as clogs but I prefer the heel effect. They do come in a more orange/red effect as well as sandals and I'll definitely be getting some. Ideal for beach wear too.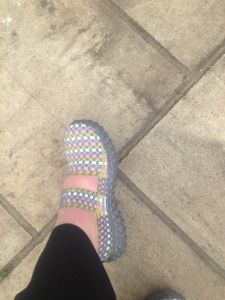 A thumbs-up from D and I, thanks to Shoe Zone.
Disclaimer: we were sent two pairs of shoes of our choice for the purpose of this review, our views and words are our own.
---
---