It's Monday and time to share another Magic Moment. Jaime at oliversmadhouse.co.uk is having a well-deserved holiday this week so Vicky at vevivos.comis this week's host.
Here's this week's moment:
For two years there have been some painted purple shed panels in my back garden. Panels that were carefully painted and should have been put together, but other priorities kept taking over. Panels taking up space but the children learned to live with them and D would say "I'm just going to play near the Unfinished Shed" – meaning she'd use the base (already in position) to lay out the contents of her bag.
She had plans for the little purple shed too, an area where she can admire the contents of her bags and maybe do some drawing.
Why purple? Well, I am a bit of a purple-loving fiend, but generally only in accessories. We have a high proportion of OAPs in our village and there's some who wear purple trousers, coats, scarfs all at the same time, good on them but I do wonder if that will be me one day…
(Having said that, there is the most gorgeous purple maxi dress in Phase Eight at the moment, a definite case of window-shopping only!)
Back to said shed, after a good year of nagging negotiations and deciding whether we could justify paying someone to put said panels together (Mr Bluecrisps, bless him, is not a natural DIY-er), it all happened yesterday.
There they were, Hubbie and his mate – who D calls Tap-man or Shed-man depending what he's come over to do – scrabbling around over the little roof with nail tacks, refusing to look at the instructions until absolutely necessary and generally being alpha-males.
D, having slept badly for a few nights beforehand, was extremely fragile yesterday and didn't cope well with all the upheaval but it was worth it.
Eventually it was done. The men folk strutted around, proud of themselves and I put the little finishing touches on that would appeal to D.
Did she approve? She did. She loves the butterflies and dragonflies on the outside and the space inside. It's going to be used throughout the summer, that's for sure! There is talk of a Mumma-D sleepover in there in the summer holidays too!
I'm so pleased it's finally done and she likes it, her brother does tend to monopolise the trampoline so it's nice that there is somewhere in the garden for D, the fact it's purple is a bonus!
It's now a "Finished Shed"!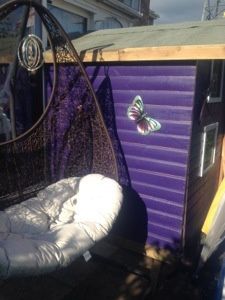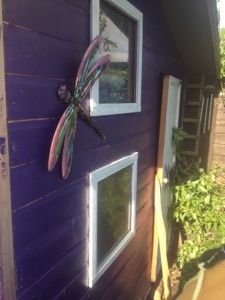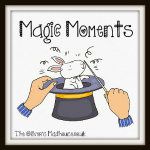 ---