It has definitely been a day as per the title, T preferring one aspect and D the other.
This morning we all headed off to watch T play football, normally D and I stay behind so that T and Hubbie get their "boys football time" but today we popped along (after asking if that was okay with T first).
Ultimately we (D and I) saw the game from a distance: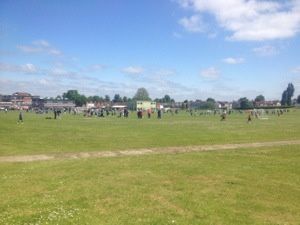 It was too busy for her, I knew in my heart-of-hearts it would be. We found a quiet little verge and D alternated between finding daisies, buttercups and wild grass and painting her fingernails!
She wanted to have varnish on last night for the party this afternoon but, D being D, wasn't able to sit still long enough for the varnish to dry. So, it would smear. Eventually the baking hot weather meant that her nails DID dry. This is D in what she called "the squashed grass area" painting her nails.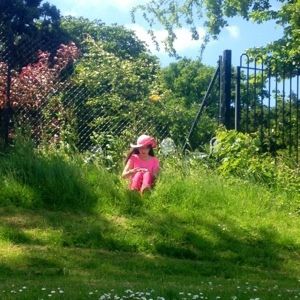 A big part of me feels sad that she's unable to run around carefree like so many other children were doing. But it's all about acceptance of the child you have and understanding – almost risk-assessing – every situation.
One thing I wasn't prepared for was a bolt in the car park, that situation has always been a big fear and luckily no moving vehicles were nearby. There were lots of people around and, despite us holding hands, it was too much for her. I wish the council big-wigs who turn down autism families for blue badges could understand autism more.
So, that was first half of the day done.
Next, in complete contrast, was a birthday party at Taplow – click on the link for more information.
Taplow or Thames Valley Adventure Playground is a special needs playground, a wonderfully inclusive place. I have honestly never seen D so relaxed – outside of the house – as she is there.
It's a chance for parents and carers to relax and catch up, knowing that their children are safe and happy, no-one is going to be pointing, whispering or judging.
At party food time, I'd brought a packed tea – as I always do – so that they had their usual food, on their usual plates – no-one batted an eyelid. Similarly, D decided the party table was too busy for her so she sat with Hubbie and I, as did another child with his parents, all fine.
A couple of photos from a previous visit as I forgot to take any: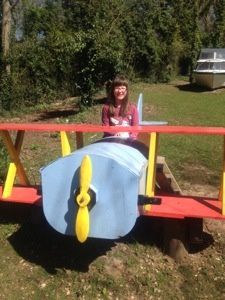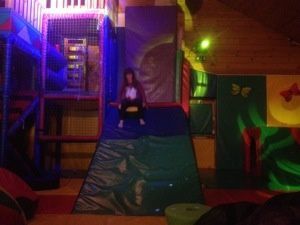 T found a boy to kick a ball around with, so he was happy.
Two tired children tonight, two relieved parents that the day has ended well, oh and T's team won 6:3 (although D and I didn't see it!).
Hope everyone's had a good day, comments/RTs/shares welcomed. Thanks for reading Jx 😘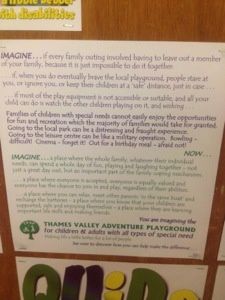 ---
---