Ooh, it's Monday after a loong half term and time to link up for another Magic Moment.
My one this week is very recent, happening last Monday. It's made me think "awwwww" every time I remember it and it's about my little man, T.
T, for those new to my blog, has high-functioning autism. He finds showing affection difficult and has problems with reading emotions in others, but will happily burble football results, match facts and anything football-related until the proverbial cows come home.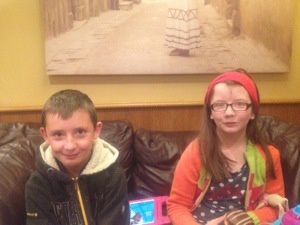 Unlike his sister, D, who is very emotional and you can instantly tell how her day has gone at school – she will either bolt (bad day of stored-up emotions) or rush at me like she's bowling and bear hug me (good day) – T will contain his emotions and silently withdraw from a situation and then go and bounce whatever has upset him away on the trampoline.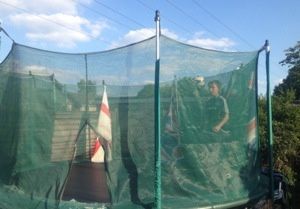 He doesn't cuddle unprompted, if he wants a cuddle he'll stand very close to me and wait for me to notice and cuddle him. He also never says he loves us, our evening routine is that he'll put his head on first Hubbie, then me, for separate hugs, we say we love him, he doesn't say it back and then he'll say "Night Dad, Night Mum" (always that way round, always) and then he'll go off to his room.
D and I have the beginning of a song we sing to each other, it's Joyride by Roxette.
It starts "Hello, you fool, I love you, come on, join the joyride".
Except when D sings it, it's "Hello, YOU FOOOOOL (leaning right in to my/Hubbie's face), I love you, come on, join the Jollyride" and she'll be laughing away, making a winding motion with her hands. She'll sing it to me, to Hubbie and we sing it back. It's lovely.
Here's the magic moment (finally you think):
We'd been out to the park for a picnic and had lots of fun, lots of family laughter, oodles of fresh air.
We had a pit stop in the coffee shop, freshcatos for the men, water for D (it's all she'll drink) and a decaff skinny mocha for me.
T picked up the triangle-shaped menu thingy that was on the table and sang "hello, you fool, I love you" through it to me, giggling.
It was lovely, it was magical, it was fun. It's something I'll never forget.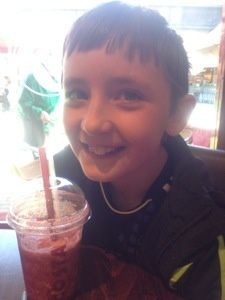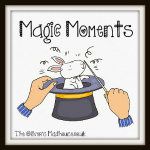 ---
---