I'll start with the "mushy moments", it's mine and Hubbie's wedding anniversary today (13 years together to the day and 11 years married), I wrote a poem this morning – click here to read it – which made him cry!
Our day started off with cards etc and D, being the logical girl that she is, wondered why Hubbie had just wrote "J" on my card's envelope and not my full first name and then said "Dad, you shown have just written Mum if it was easier!"
She enjoyed opening the envelopes and reading out all the words, bless her!
Anniversary flowers, apparently it's meant to be steel for 11 years but I definitely prefer these: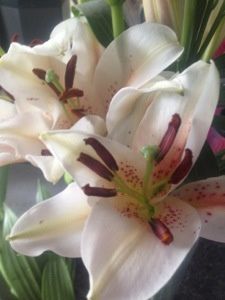 D and T have got on better today, playing hide and seek during the gaps in rain showers and taking turns at Minecraft.
D is not too keen on the "creepers" – monsters that come out at night on the game – but unusually T respects this and always switches to something else before this happens.
I have to confess, when T asked for this app to be added, I didn't know what it was. Part of me thought it was to do with Battleships – no idea why!) and I thought it was mines like blowing-up-things.
This is some information about Minecraft:
"Minecraft is a game about breaking and placing blocks. At first, people built structures to protect against nocturnal monsters, but as the game grew players worked together to create wonderful, imaginative things.
It can also be about adventuring with friends or watching the sun rise over a blocky ocean. It's pretty. Brave players battle terrible things in The Nether, which is more scary than pretty. You can also visit a land of mushrooms if it sounds more like your cup of tea."
T and D have only got so far as building structures but they're doing it together, taking turns, making suggestions and all in a good-natured way. As Karen @ManicMippisMum said " I think it must appeal as it's so cause and effect. I approve as it seems constructive over destructive."
And I couldn't agree more, anything that encourages sharing, working together and cause and effect is fab in my book.
D's also been focused on making this today and apparently "she's not old, even though she has grey hair". The skirt is from a Hama beads princess that I spent blooming ages making one year and it hides her lolly stick legs. No name yet but grey-haired princess has accompanied Bunny into the inner sanctum this evening.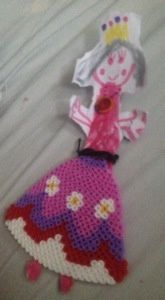 With mutterings about where have the last 11 years gone, I'll raise a glass and say I hope everyone's had a good day, comments/RTs/shares welcomed, thanks for reading Jx 😘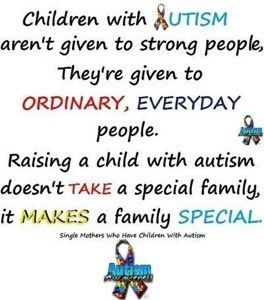 ---
---