Today's #Prose4T is dedicated to Mr Bluecrisps aka Hubbie. It's our wedding anniversary today, we went out on our first date 13 years ago today and married two years later – on the same day.
Happy Anniversary
Haven't the last 11 (or 13!) years flown by?
You've made me laugh, you've made me cry.
We got married on that bright sunny day,
Freesias covering the fact that our son was on the way.
A ceremony in Jersey, it brought on the tears,
Tears of love, tears of happiness,
The feelings have carried on throughout the years.
And this year they're stronger, we're really being put to the test,
You're a husband and father, you always do your best.
I've only got one gripe,
Shall I say it? I ought.
For when your sister said
"You've got to like sport.."
I thought she was joking,
I laughed along.
But how, how could I have got it so wrong?
Football – any football – and Sky sports news.
If it's round, a ball and it's being kicked,
You'll sit for hours and view.
And, our son who was in my belly?
Our handsome, clever T.
Is just as obsessed with "the beautiful game",
Oh "woe is me!"
But we're a team, you and me,
With our children, in our home.
Together forever, my true blue with me going tap-tap-tap on my phone!
Thanks for the lilies, my favourite bloom,
11 years ago today, we were bride and groom.
Love you, J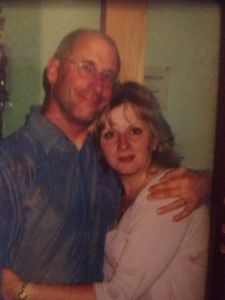 ---