I'm keen on anything that gets my children active and away from tablets and console games.
But with special needs children you think "what can they do?", issues around stranger anxiety and turn-taking can present problems, which other parents aren't usually willing to acknowledge. That generally leaves sports centres out of the equation.
D also has motor issues which means riding a traditional two-wheeled bike or two-wheeled scooter isn't possible. She hasn't developed the co-ordination to pedal, look where she's going and steer. Her tendency to bolt if overcome with anxieties means that, so far, I haven't gone down the three-wheeled trike route.
What she does enjoy is her three-wheeled scooter but as with many lower-end-of-range scooters, bits tend to fall off (yes, really!) and she's outgrown her three-wheeled pink scooter as she's already past the average age of a 12-year old at age 9 and a week!
So, my challenge was to find a three-wheeled scooter which would accommodate her stability needs and my safety concerns. It would also need to last as she does get very upset when things break.
I was therefore delighted when Micro Scooters asked if we would like to review a Micro Compact Kickboard T-bar Scooter in silver and it arrived in time for D's birthday too!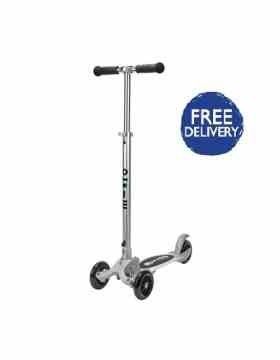 When I asked for scooter recommendations, Micro Scooters came back as the top choice many times, so I knew we'd be reviewing a top quality scooter.
Here's what the website says:

*excellent three wheeled kickboard scooter suitable for older children (10+) and adults
*strong enough to take the weight of a child who has outgrown a maxi with the same tilt and lean steering that they love
*based on a simple version of the superb original kickboard but with a t-bar.
*three wheels gives the stability that comes with kickboards scooters.

How easy was it to assemble?
It was extremely easy and very quick. Unpacking the parts took longer than assembling the scooter and there were very clear, easy to follow instructions in the booklet. The Allen keys were also supplied.
Nice sturdy box: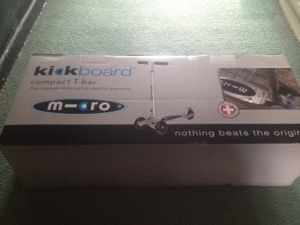 Parts out of the box and ready for assembly: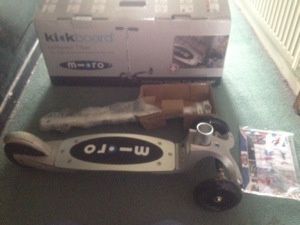 Assembled!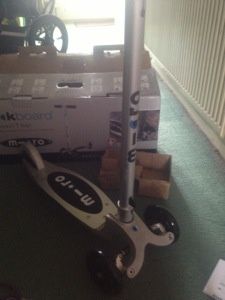 The height is very easily adjustable via the steering rod and there are reassuring "clicks" when all is in place. The scooter is very sturdy and I can't see any bits of this falling off in a hurry!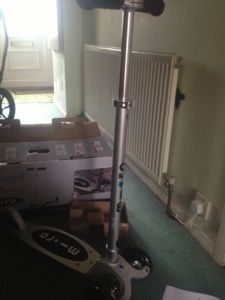 Because my children are very visual, it was nice to see that a "Safety Rules" sheet was included: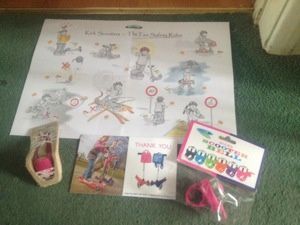 And what does my birthday girl think of it?
She loves it! She's mastered using the brake and is learning how to use the tilt and lean steering but we're sticking to quiet, straight paths at the moment.
I asked her what she liked best and she said "stopping and a safe ride".
Which means a definite thumbs-up!
The smile on her face says it all (and yes, I do need to get her a helmet, along with a little buggy bag for Bunny to travel in. They are available – along with many other great ways to personalise a scooter – here.)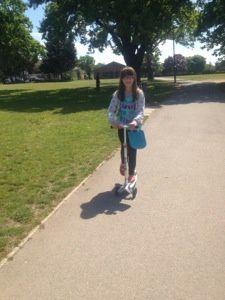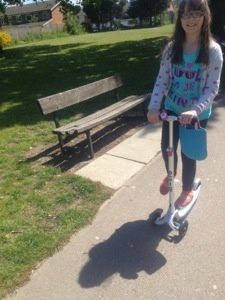 Disclaimer: we received a micro scooter, a bell (which D loves ringing) and a strobe light for the purposes of this review. My words and views are my own.