Yesterday I was really impressed with a certain cinema chain, today I'm not so.
Yesterday I'd clicked their site to check ticket times for a film showing today and noticed that they advertise "autism-friendly" screenings. "Fantastic" I thought and spread the word. It may only be one morning a month, but it's a start, a nationwide chain recognising the need for a showing where the children/adults can dance and clap along if they want; an environment where the music is softer; the lights are slightly up and an environment where the parents won't feel judged for their child enjoying the film.
It's a great advancement for autism awareness and I support it. Who wouldn't?
What I am questioning though is how much their staff have been trained in advance of these sessions.
Today my two were excited about going to see Epic, I choose today because it was "Orange Wednesday" where you can get a cinema ticket at a reduced price, it was however still over £20 for the three of us.
I choose the earliest showing possible, with seats away from everyone else (not really an issue at a 10am showing tbh, very few tickets sold), knowing that later showings would be busier.
We all arrived and I'd known in advance the lift was out of order but that was ok, D was excited and the stairs weren't busy, it took a while but she made it.
She was so excited that she was flapping whilst she was walking alongside the buggy when we went to hand our tickets in, only to be told that we wouldn't be allowed to take the buggy in.
I explained she has autism and the buggy is her sanctuary for when she gets anxious ….no. I explained that there may be instances when other people walking past to the screen might scare her, due to her stranger anxiety…no. How the film might – but shouldn't – scare her and if she did she'll need her buggy…no. Lastly I said that if she bolted due to anything I'd mentioned they'd be responsible…finally, we got an agreement to take the buggy in. The screening room wasn't even a quarter full, there was plenty of room.
For a company advertising "autism-friendly" screenings, it shouldn't be like that. Autism awareness should not be restricted to one morning a month, if you're going to advertise an autism-friendly initiative, then make sure your staff are trained to listen to what parents of autistic children say outside that once-a-month screening. Just because a child looks "fine", doesn't mean they will remain "fine".
As far as the film went, it was as EPIC as its name suggested. The imagery was amazing and D, being a lover of all things plant and flower related, loved the gentle bits. She wasn't so keen on the chasing scenes, the more menacing bits and this is where the buggy – her "safe place" – came into use. If it hadn't been in there, she would have bolted out into the corridor and probably kept on running.
Aforementioned incidents aside, it was a good trip. The children – on the whole – enjoyed the film, we stuck to our timetable afterwards (definitely no Phase Eight for me) and, yes, we achieved what we set out to do. Without a "safe place" (buggy) it would have been very different.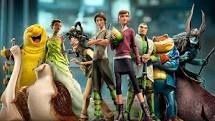 Thanks for reading, hope everyone's had a good day, comments/RTs/shares welcomed Jx 😘
---