The joy of opening and reading a book (whether in paper format on an electronic device) is something we all take for granted.
The ability of a story or poem to transport us away momentarily to a different world where we are captivated by the author and left wanting to turn the page, to find out more.
One of my happiest childhood memories is being at my grandparents house in Sussex and having access to their many bookshelves. From the age of 5 to 9 my parents were constantly arguing (they separated and went through a bitter divorce when I was 9) and the place I felt happiest was curled up with a book, next to one of my grandparents.
I'm so pleased therefore that my children enjoy reading so much – but hopefully not for the escapism reasons I sought – we feature books regularly on the blog and I asked T – our high-functioning autistic son – to write a few lines about why he enjoys reading:
What I like about reading
I have lots of books at home, so I like reading. But, I like reading because the author sort of encourages you because he makes the title catchy, so people will want to buy it.
I like books that have adventure with lots of cartoons. I like these types of books because the pictures make another story on their own.
I also like reading because if you are bored, you could sit and read a book. Everyone in my class likes reading and I can understand why. Reading is fun because it inspires you to learn more. Fact books are a scientific type of reading and you can learn more facts than you thought you could. I usually read football books so I can learn more about my favourite sport.
Every time I read it relaxes me, so if I'd had a bad day I could just relax and read a book. Books educate you and make you learn more.
But, not all children are as lucky.
Save the Children's Food for Thought report, released today, demonstrates that chronically malnourished children are 20 percent less literate than those with a healthy diet and less able to read or write a simple sentence.
Those are seriously worrying statistics, those children will grow up to become adults with the same issues.
Here is the case study of Nyaguol, a 35-year old (approx) mother from South Sudan:

All of Nyaguol's six children, except the youngest two, are enrolled at the primary school in their village. However, they're often too hungry and sick to go to attend, or too weak to concentrate on their lessons. Floods, drought and ongoing inter-communal violence have led to severe food shortages in the area. Often the family goes for days without food. Last year, Nyaguol's youngest daughter, two- year-old Nyakuoth, was given peanut paste as part of Save the Children's nutrition programme. Although she's stronger now, Nyaguol is worried that lack of food is hampering her development. Nyaguol is a member of Save the Children's Mother to Mother Support Group in Ukau village. The group received childcare training, for example, about the importance of exclusive breastfeeding for a baby's first six months, how to introduce complementary foods, and about good health and hygiene practices. Their role is to pass on this information to other women in their community.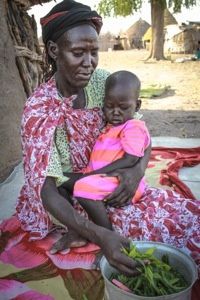 And this is Nyaguol's story in her own words:
Our main problem here is insecurity. Last year there were also floods and drought, so people don't have enough food. Whenever you want to go to find food you're worried because of the fighting. People are just running here and there and aren't able to find enough food for their children to survive. This has been a problem for very many years. Each year we hope it will be better but each year there are problems.
All of our crops were swept away in last year's floods, so we have nothing. All I can do is try to earn a bit of money and then go and buy enough sorghum in the market to feed my children for one day. We mainly eat sorghum. We don't have a mill to grind it so we grind it by hand and give it to the children.
There's no way to make any money here unless you have a net and can catch fish in the river to sell at market. But when you put your net in the river you don't know what you'll be able to catch. You don't know what there will be to eat tomorrow. You just hope there'll be some way to feed your children.
My mind runs mad thinking about what my children are going to eat today and what they'll eat tomorrow because I have nowhere to go and get food for my children. I can't go very far to find work because it's not safe and I'm worried that I might be killed while I'm collecting firewood.
If I get food in the evening my children will eat and go to school the next day. But if there's no food they'll stay at home. I won't force them to go to school because I know they'll be too weak to study and may fall [faint] on the way. So they stay at home until I find some food. We often spend four days a week not having any food. We hope every day that we'll catch fish in our nets, but it doesn't always happen. On those days I collect grass or leaves from the trees and we eat those.
All of my children except the youngest two go to school. I feel sad because when they come home from school there's nothing for them. Sometimes I cry because all I can give them is the leaves from the trees. They're happy to go to school but when they have no food they find it hard to concentrate. They still try to go to school, even when they've eaten nothing the day before, but then they have to come home early because they feel unwell.
When I ask them about school and what they've learned they often tell me, "I didn't learn anything because I had no energy and I didn't understand what the teacher told me." But if they've had food they're able to understand what the teacher has said to them.
I feel bad when they don't go to school because there's no food. But they're hungry and I'm hungry, because I have nothing in my house. I can't even take my children to hospital when they're sick because I have nothing except the clothes on my body.
We have a lot of problems because of the lack of food. When my children have nothing to eat they're weak and they can get diseases that make them very ill. But if they have something in their stomach they feel strong and can fight the diseases.
My youngest child has many problems. She's very weak because there isn't enough food. She's two years old but she's still not able to talk. She never says a word even though she's old enough to talk. It always looks as though she has a headache and she doesn't respond to you properly. I don't know what's wrong, but it's like she's not growing up properly. Last year between April and October she was given peanut paste by Save the Children and now she's stronger.
I'm a member of Save the Children's mothers' support group. We've been taught how to breastfeed a baby, about the importance of exclusive breastfeeding, and how to care for a young child, such as the importance of good hygiene. We advise some of the other mothers who haven't been trained like us. For example, we tell mothers who are giving babies food other than breast milk to practise exclusive breastfeeding. In the past we didn't know these things, but now we've been given this message I can tell it to other women and help the community here.
Before, we were doing things the way people have been doing them for a long time. We'd give cows' milk after our babies were born, not breast milk. Or we'd give animals' milk and breastmilk together. We would never breastfeed the child until the placenta came out. Everyone now accepts the new information we're giving them.
We've also been told that pregnant women mustn't carry or lift heavy things. In the past, after a woman had had a baby we gave them sorghum, but we were told she should eat lots of different food like milk and porridge which are good for her body.
If a pregnant woman has enough good food, she'll deliver a healthy baby. But now we don't have enough food and women get very weak when they're pregnant. Sometimes their babies are not strong or healthy when they're born.
(Interview conducted by Helen Mould in April 2013 during a communications visit to Akobo East)
Sobering reading, it puts any day-to-day niggles I have into perspective. It makes me grateful that my children are growing up in a country with opportunities, with access to decent food and an education. It makes me want to help.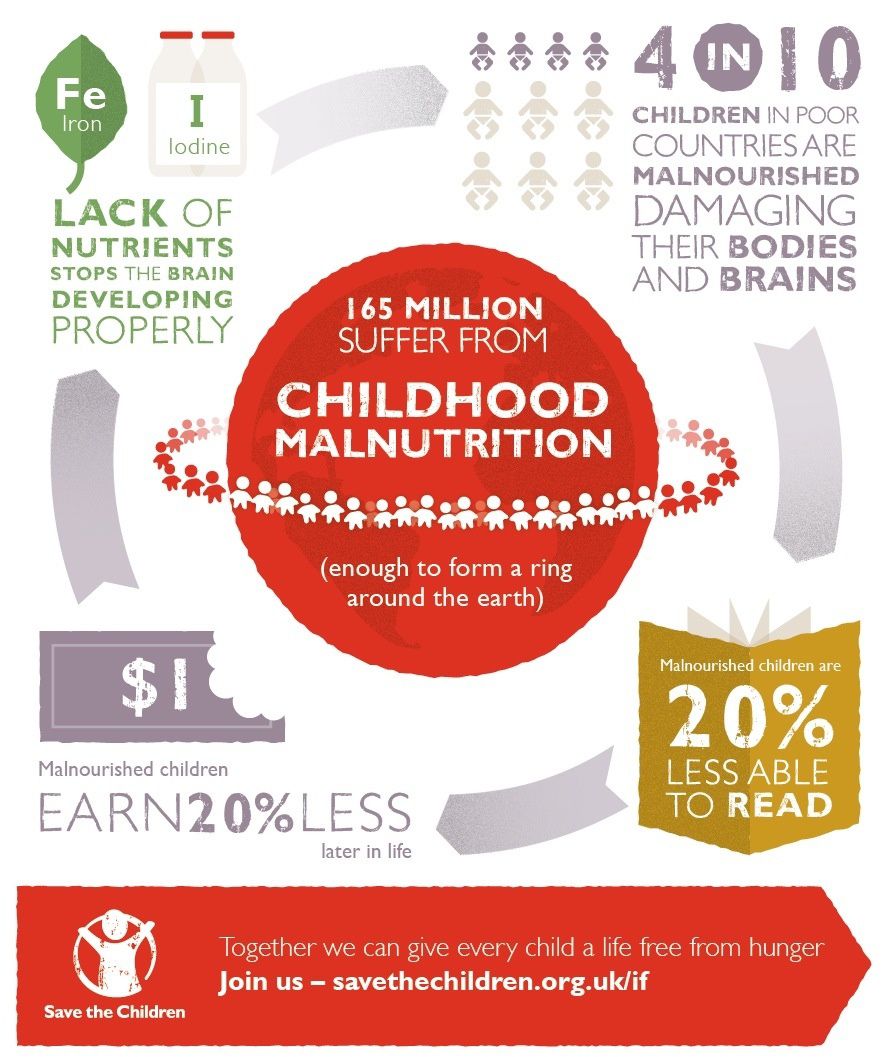 How can we help?
Save The Children are organising a rally in advance of the G8 summit in June, click here to read about The Big If and sign the online petition.
There also a twitter party today organised by BritMums between 1-2pm – click here for information – we'll be using the hashtag #foodforthought, come and join us raise awareness for Nyaguol and the many other families.
Information and pictures provided by Save The Children.
---
---