The last week has whizzed by, it's Monday and I'm linking up with Jaime at oliversmadhouse.co.uk for #MagicMoments.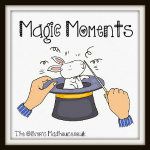 My Magic Moment to share this week is when T, my football-loving little man, won a divisional championship trophy with his team. He plays every week in an under 10's local team. Here he is, looking very, very proud at the presentation evening.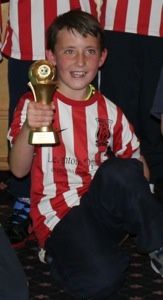 Football is his life, his obsession. From the time he could pull himself up, he was bouncing on the balls of his feet. At the age of 18 months, he could name all the Premier League badges and he basically lives for football – playing it, watching it and writing his own little match reports.
We walk past a house every day on the school run that has a window sill packed with trophies and T always looks at the window as we go past, wondering who all the trophies belong to. I always say to him that he'll have his own little trophy cabinet one day and he will, I'm sure.
As well as being passionate about wanting to know everything about football, he's a very good little defender/mid fielder, left footed too. He plays to support his team and will anticipate which position he needs to be in in advance, which is pretty good for a ten year old.
Did I mention that T has high-functioning autism? Children on the spectrum can have issues around turn-taking and team play. T, because football is his obsession, takes his game very seriously, sometimes a little too seriously but he does his absolute best.
We all went along to the presentation evening and although D was a bit over-whelmed by the amount of people and impatient to see her big brother get a trophy, we clapped all the other presentations, the little happy faces telling their own proud tales.
T's team finished top of their league, in Division Two. An evening to remember for all the boys and I'm ordering a commemorative print from the evening for T, in the form of a personalised magazine cover. He absolutely devours his Match magazine every week so he will love it!
And he's started his own trophy and medal window sill too. He doesn't like to close his curtains now. It's not as full as the sill in the house we walk past every day, but T is only 10, he's got a good few years to catch up.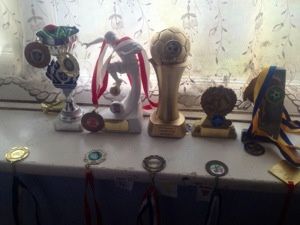 (I should mention that Hubbie is a coach for T's team, extremely proud and reliving somewhat of his youth through the team!)
Very proud of our little man. We all are.
Thanks for reading Jx 😘
---