I love our house, our little semi in suburbia. It was the first house we viewed when we started looking for a bigger family home than our two up-two down terrace in the centre of town.
I love the way the garden has positively bloomed this year, the plants and trees I planted two years ago are all growing nicely. The lilac tree is producing gorgeous smelling blossoms, my funny twisted trees are growing ever-twisting in the sun (weird but cool) and everything is just tickety-boo plant-wise.
What I don't love – and it should have been an indication when we viewed, with Whigfield's "Saturday Night" blasting out through a window – are the people we share a fence with.
Noisy, inconsiderate and ignorant. The music has continued to blare out over the nine years we've been here and we put up with it, because eventually it stops. The trampoline is always full of visiting children shrieking, who think nothing of noseying over and commenting on the football shirt that T is wearing. Which upsets him. It also upsets him that he's unable to bounce as much as usual as he's aware of them.
It upsets D that she's unable to just sit quietly in the garden/on the trampoline and look through the contents of her bag, Bunny at her side. She's spent much of the day inside our Apple thingy, grateful for the cover that provides an extra barrier for her.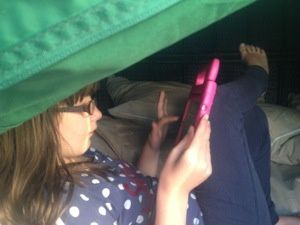 We've had quiet (sometimes not so quiet) words many a time and they are very aware of the fact we are living with autism, indeed one young adult did some work experience at D's school. But we love our home and pay the mortgage companies a shed-load of money every month to stay living here for that reason.
For our children, our garden is their "safe place", their sanctuary. They are both unable to cope with the hustle and bustle of busy areas/over-populated tourist attractions that families flock to at the weekend. They have the things they enjoy and calm them in the garden, their family home.
It would be nice to think that one day there'll be a bit more consideration. One day.
I wrote a poem about being "Over The Fence" but didn't publish it because a sense of something held me back, here it is:
There you sit, music blaring, soaking up the summer sun
Your children shouting, so turn up the volume,
You don't consider anyone.
Those girls, cute and polite, 9 years ago,
Grown up now, pouting and swear,
Think nothing of telling my children to "shut up",
They live loud, drive fast, without a care.
Just once, stop to consider over the fence,
Those children who can't sleep when the base blasts through the wall.
We've tried asking nicely that you turn it down,
You think only of yourselves, not others at all.
Tomorrow is another day, hopefully it will be a quieter one.
And then I think of the Mayhem family and I'm so damn grateful we have a home. I feel angry on their behalf, feel powerless to help them. Five people, including a child with special needs expected to live in one room and being charged £1000 a month! Read this post and see how they are expected to live, for potentially months.
Strange priorities in this country, eh?
---