The title would sum up our day today. Both T and D were feeling better,they therefore had more energy to be unempathetic with each other.
I've also found T to be more literal than usual, everything has had to be calmly explained to him.
Here's an example of our day:
D is crafting her little petal dolls.
T suggests in his very direct way that she is doing it wrongly.
D gets offended, tells T that he is just like xxxxx (a bossy child at her school) and shouts and stomps upstairs.
T withdraws in his quiet, angry shell, eventually manages to say what's wrong and then cries.
Meanwhile D is wailing upstairs. One parent to each child.
Same calm tactics used for both.
Because they are so alike in so many ways – apart from intellectually – this happens a lot. Each wanting to do it their way, each getting frustrated with the other. Each needed separate calming mechanisms. T will bounce, D will stomp and shout.
Not helped (of course) by the fact we had to nip to the shops. Plenty of distraction tools on the way, D on her ipad in the buggy, T and I joke-telling to lighten the moods.
And it seemed to work, we tend to visit the shops in the mid-afternoon as it's quieter, this was D in the supermarket, waiting for me to complete the checkout process: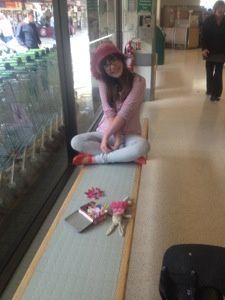 A pit-stop in our favourite coffee shop, which fortunately wasn't busy and then home. More bouncing required for T, more crafting for D.
Hopefully tomorrow will be easier.
Comments/RTs/shares as ever welcomed, thanks for reading Jx 😘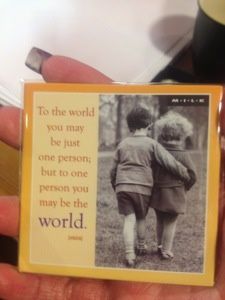 ---
---