I'm linking up with Jaime and Magic Moments today, for a very current one, it's happening today, it's D's birthday.
As regular readers will know, D didn't recognise her birthday as being anything special up until a couple of years ago. It was just another day. That's all changed!
She's been counting down ever since the start of May and who can blame her? She's got six or seven years worth of excitement to make up for.
Ever since the day she was born, 12.27pm 9 years ago, she's made me proud. I've cried more tears than I ever knew I had in me, both of joy/pride and sorrow. Sorrow only because when she was diagnosed I knew very little about autism, they were more tears of fear and grief for the child I wouldn't have, rather than the gorgeous child I do.
Ever since we started on our new journey as autism parents, my mantra has been "focus on what she CAN do, not what she can't" and it's the best way to be.
Anyway, back to today, this lovely girl's birthday: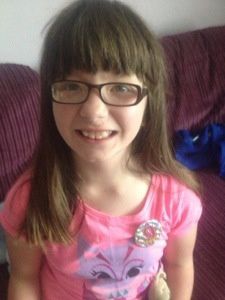 She burst into our room early this morning, a happy, smiley 9year old, told us that she loved us and then fell back to sleep! When she woke up for the second time, it was present time, amidst the giggles.
Everything was greeted with enthusiasm, her cards were "the best" and she wanted me to share these cards because she loved them: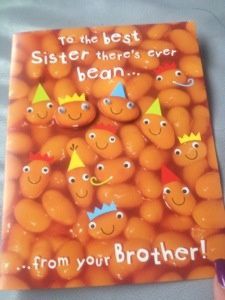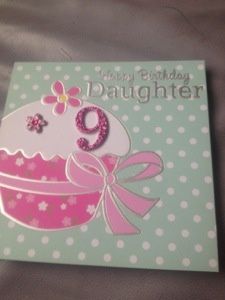 Her presents were speed unwrapped and received enthusiastically. For someone who likes unicorns, cuddly soft toys and My Little Pony, these fitted the bill perfectly.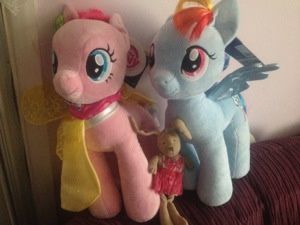 And this was her main present. I'd wrapped it already in its case so she opened it and said "pink, that's lovely, what is it?". Overjoyed completely when told it was her own iPad mini, loaded up with her favourite apps but NOT automatically connecting to wifi, emails or anything like that. Even though she'll be using it for set times and within sight, I have to enforce boundaries.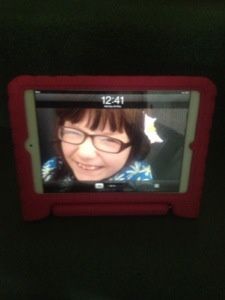 She's absolutely delighted with it, obviously very familiar with her favourite apps and how to work it and she let T have a go on it too, which was lovely. He has to wait until November for his but it will be worth the wait.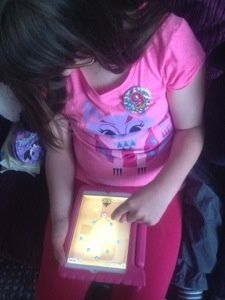 A happy girl dropped off at school, complete with an M&S chocolate cake for afternoon snack time, she's going to have a good day.
When I think of everything D has achieved in her first 9 years, I couldn't be prouder. She has made me a better person for sure. I'm not that self-absorbed career woman I was – even though I miss it sometimes – I'm happy with my children, my man, my home and that's the magical part.
Thanks for reading Jx
---
---