A very happy, smiley girl is settling to sleep tonight, she's had a great Birthday.
The whole day has felt like a Magic Moment (click here to read my earlier post and see some pictures), it's been lovely.
She's had a fab day at school, we'd taken in some M and S chocolate cake for a little party they were having this afternoon, complete with party games and singing. She rushed out delighted to see me and told practically every parent also collecting their child that it was her birthday. She had fallen over at lunchtime and bruised her knee, normally that would have meant a bolt as soon as she see me (from built-up anxieties) but not today.
We popped over to get her an ice-cream from the van and because it was her birthday, the vendor gave it to her for free! One very happy girl!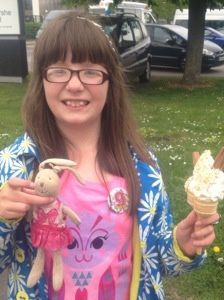 Her cake with candles (sort of) in the shape of a Number 9, they twinkled and sizzled and took a lot of puffing to blow out!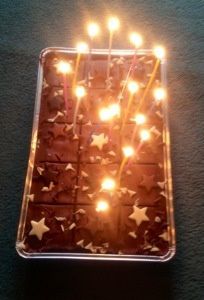 I can't deny that T's been a bit jealous today, I've tried to combat that by him receiving a couple of books (all about weird science facts, with b u r p and f a r t s in the titles) and we've talked about when his birthday is etc. So, it was lovely to see this, the two of them sharing and playing on D's main present: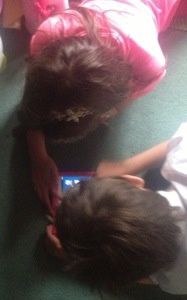 Moments like the one above don't happen much and very often moods can change certainly as if a switch has been flicked, but today, all was good.
She's been overjoyed with her presents, played with them and been a joy to be with, roll on next year!!
I hope everyone's had a good day, comments/RTs/shares as ever welcomed, thanks for reading Jx 😘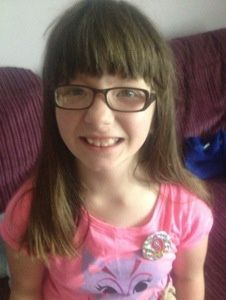 ---