As the Mumma of two children with autism, my thoughts turn to the future daily.
My children aren't going to be "cured" of autism, their coping strategies will hopefully develop and mature but – as we don't live in Neverland with Peter Pan – my children will autism will grow up to become adults with autism.
It worries me, it REALLY worries me. As I know it does everyone else. The Government is ever-cutting funding to local services, which means the local councils are having to viciously cut their services and invisible disabilities are invariably suffering because they aren't necessarily understood and cannot be seen.
This is why I've signed up to join the National Autistic Society's Push For Action campaign and I'd very actively encourage everyone within the autism community to do the same.
Here's some details of the campaign (taken from an email I received, I've removed references to our council for privacy reasons):

"As the perpetual fight to protect our benefits in this country continues, we also need to make sure that support for adults with autism exists outside of the benefits system.
With a law in place – The Autism Act – your local council must do certain things so that everyday support, whether that's help with laundry, cooking a meal or being diagnosed, is there for those adults when they need it.
Sign up here to see if your local council is doing what it's supposed to do.
From what I've seen, most councils have not done enough. That's why we're launching Push For Action.
I caught up with our local campaigns officer, Anna, as the parallels between Who Benefits and our new campaign became clear.
Anna takes a sip of coffee and sighs. I'm used to encountering this kind of frustration when we discuss the impact of Government policy on people with autism.
In the nine years Anna has been supporting people with autism she has seen many changes, and not all of them positive. But I know that her dissatisfaction is mixed with hope – she knows campaigning works.
Our conversation turns to the support some adults need, and a lady called Sally who took part in the Government's trial assessments for PIP.
"When the assessor asked Sally if she can make her own meals, she said 'yes'. But she can only make pasta with butter! Sally's sister had taken more than six weeks to teach her this one meal and she still needs to be prompted and supervised. She'd obviously misinterpreted the question but ended up scoring no points –no wonder people with autism were so worried about those assessments!" The couple beside us turn around as Anna's voice gets louder.
Anna finishes her coffee, and says she's off to plan how she will be supporting campaigners push for action across the country.
Anna's energy is infectious. She gives me hope for change, too.
This year the Government will review whether they, local councils and the NHS are doing enough to turn the Autism Act into action for people in your area. Click here to end the wait..
Thank you
Tom Madders
Head of Campaigns"
Photo reproduced below with permission from the National Autistic Society.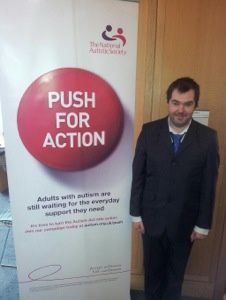 Infographic below: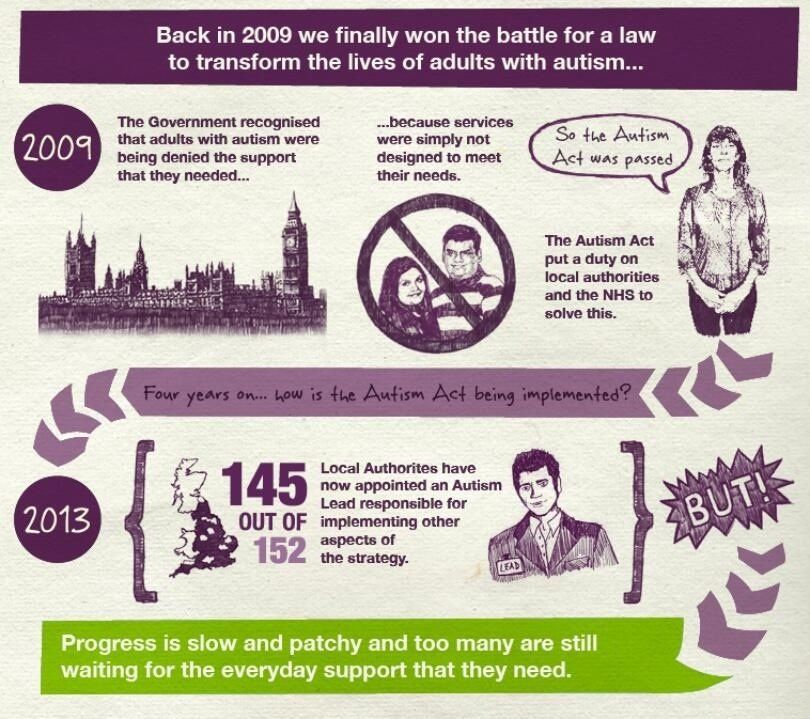 ---
---