Despite the inner thoughts knocking around in my head today, we have adhered to the routines today, we have to, with two children who rely on these for regulation and reassurance.
With one exception, one that I'm very pleased and proud about.
I picked up a flappy, happy, bouncy D from school (SO excited about her birthday, she's been telling the lollipop lady, other parents we exchange "good mornings" with etc) and then we went off to meet T.
T had a request, he wanted to meet up with a classmate after school at the shops. We would literally have time to get home, him get changed and then we'd be walking off again.
D was (surprisingly) okay with the chance, she is a girl governed by her belly and the clock but reassurances that she'd eat as soon as we got back and, back in the buggy for her and off we toodled.
On the way, T was asking me when I thought he'd be able to make the walk by himself, his road awareness is generally good (unlike D) but it's not so much the road that I feel he's too young for, more the fact that his moods can change at the flick of a switch and he can be too trusting. I'm not ready for that and nor is he…for a while yet.
Fortunately the other child turned up, with his mum and little brother, I did wonder if they would as this was an arrangement the boys had made between themselves at the end of the day. The mum and I hadn't met before as D finds the mainstream playground environment far too stressful, not to mention the stares that an SN buggy invariably attracts, so drop-offs are strictly at the gates, with T speeding in quickly.
The boys played football together, D mostly sat with the little brother (side-by-side, so cute!) and watched. The child T was meeting is also on the autistic spectrum and his brother is potentially too so his mum and I had plenty to chat about, in between reassuring relevant children at relevant times that all was okay.
T and the other child do seem to have gravitated together since T's diagnosis, whether intentionally or unintentionally. It was very nice to see.
Obviously this meant that there was another walk home, T by now very tired and hitching a ride on the buggy footplate, much to D's annoyance!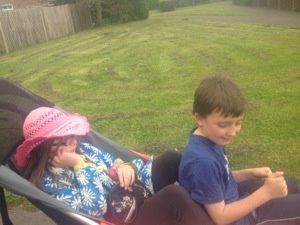 This evening has been mildly rushed, trying to speed routines up but, luckily, D is buoyed up by her birthday and T on a trophy induced-high so moods – on the whole – have remained positive.
Another week has absolutely flown by, a busy one, hopefully a calmer weekend beckons with elements of bouncy, flappy excitement and someone counts down to her birthday!
I hope everyone's had a good day, comments/RTs/shares as ever welcomed, thanks for reading Jx 😘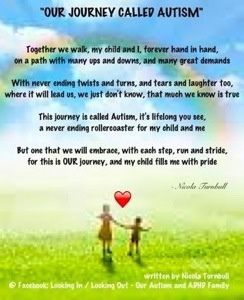 ---
---