Today's #Prose4T (linking up with vevivos.com)is full of metaphors. Full!
To give a bit of background, I am a bit of a purple addict..handbag, FitFlops, sofa, towels…oh yes, purple magpie.
I bought our lilac tree two years ago and the first year obviously it was finding its bearings and rooting down, last year it didn't do much, what with the near-drought conditions for 5 months and then monsoon-like weather for the next 3, but this year, it's starting to flower and it's beautiful, just a stunning colour.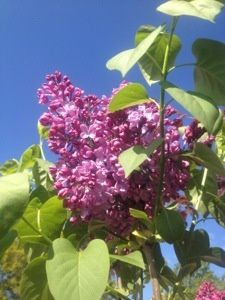 I am a Lilac Tree
See me swaying, gently in the breeze.
Nodding, turning to face the sun.
I am a lilac tree.
The children bounce and play,
Safe in their garden,
I watch over them, happily.
I am a lilac tree.
My blossoms open, rich and fragrant,
Beautiful but just for a while.
See my branches, reaching out.
Watch my leaves grow, see me smile.
I am a lilac tree.
My roots grow underneath, out of sight.
Ever reaching, looking for nurture.
So much of my activity is beneath the surface,
Ever thinking, ever searching for answers to questions unasked.
I am a lilac tree.
The winds batter me, the rains soak me,
I stand my position, tall and strong.
I've found my home, my place in the garden,
I'm always here, ever protecting against any wrong.
I am a lilac tree.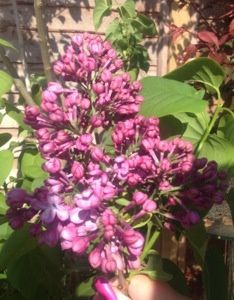 Thanks for reading Jx
---
---