Yes, I couldn't believe it either. Shoes that you can order without having to wait for a parcel delivery, that's assuming you're in/the postman hangs around longer than ten seconds for you to get to the door.
This is where Cheeky Shoes come in.
Don't believe they will fit through a letterbox? Take a look at these pictures: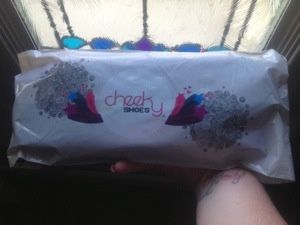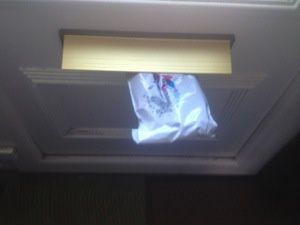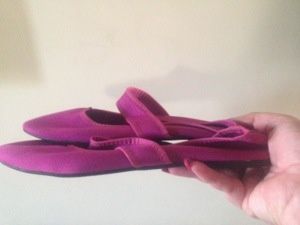 The shoes come in a fantastic range of vibrant colours and are very comfortable, D (being an adult size 3) has worn them to school and in the garden. They are very easy to clean too.
Here's some details from the website:
"We wanted to design footwear that was fun and funky, and that made women feel good about themselves. We wanted to create a pair of comfortable, colourful shoes that you could buy online without having to worry about fitting. We wanted to create a product and shopping experience that women would want to tell their friends about.
The first few months of actual selling Cheekyshoes were amazing. We talked to pretty much everyone who bought a pair – women of all ages, lots of mums – and they all said the same thing: that in a tiring, busy lifestyle, where practical, comfortable shoes are essential, our colourful Cheekyshoes made them smile and feel happy.
This was inspiring – we were making women happy. It's all we've ever wanted to do.
We know that buying shoes online can be a bit of a nightmare. How do you know they'll fit? How do you know they'll be comfortable? With Cheekyshoes it's simply not an issue. Our shoes are made with a blend of Lycra and neoprene, making them really flexible, and allowing them to stretch and expand to fit your feet.
Imagine walking barefoot on the beach, being able to wriggle your toes, not worrying about falling off a pair of heels. That's what wearing a pair of Cheekyshoes is like.
Except that thanks to a lovely lightweight natural rubber sole, you don't have to worry about standing on a spikey shell.
We don't buy into the idea that 'sensible' shoes have to come in 'sensible' colours either. Yes you want a pair of shoes that you can walk around in for hours, but we also want those shoes to bring a splash of colour into your day and a smile to your face. The only tricky bit here is deciding whether you are more of a sumptuous cerise or a luscious lemon. (When in doubt, we say suggest you buy both)".

So, what did my little reviewer think of them?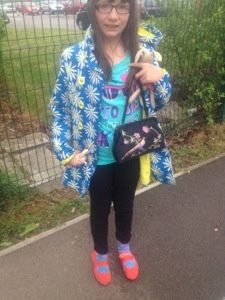 I'd say she's very pleased with them! She loves the colour red, in fact she loved all the colour choices. She's found them very comfortable and the stretchy fabric and the rubber sole means I don't have to worry about her injuring her feet walking over stones etc.
The fact they are easy to clean and remove any marks is a definite bonus, keeps them looking nice and fresh.
A thumbs-up from us! Now we just need some sunshine…
To view all the vibrant colours in the range, please click here.
---
---