Poor D was upset when I collected her from school today, she communicated in mostly squeaks and guttural noises for most of the journey home.
Eventually through process of elimination and her nodding, I managed to deduce that she was upset because one of her classmates was leaving today (he's going to mainstream school).
D was squeaky and then suddenly shouted "…and xxx says we'll never see him again"! I hope that's not the case and hopefully D heard it wrongly and intercepted it wrongly but she generally doesn't.
It's a shame because she had been so positive; talking about what they'd got him as a leaving present, excited about the little party they were having today etc.
She had bounded in this morning, wearing this tshirt, which I thought was very apt for D, the TAs liked it too (it's from Gap):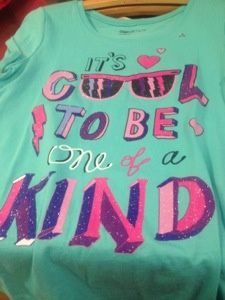 We were meant to be going to arts and crafts tomorrow but I honestly think she needs a chill-at-home day, especially as we'd have to change buses in town to get home, not an ideal scenario.
T's had a good day. He hasn't tended to look forward to Fridays recently as his class have started swimming and it's a 20 minute walking-bus there, half hour swim and then a walk back to school.
He's also discovered that swimming is one of the very few sports that he's not taken to immediately, as his previous teacher said "he's disappointed because he's finally found something he's not good at". Very perceptive.
But today, because they were all learning backstroke – and therefore the majority were new to it – he felt more equal in the pool.
Hopefully a calm weekend for all looms, it's certainly warranted.
Now, I know I've been plugging away about the Brilliance in Blogging awards, but there are only two more days until voting closes. Please consider giving me a vote if you haven't already, it just takes a name and an email (to prove you're a person), details here (click to read).

I hope everyone's had a good day, comments/RTs/shares welcome. Thanks for reading Jx 😘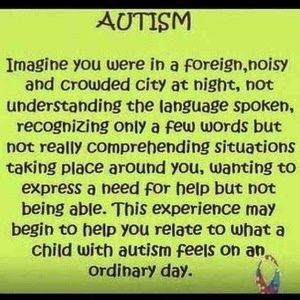 ---
---