To look at D now (it's 6pm when I'm drafting this), happily splashing away, playing a "breaking" game with Little Tikes waffle bricks in the pool, you would think she'd had a great day.
And at the moment, she's having a fantastic time, she wasn't earlier though.
We went into town – yes, on a bank holiday – because T and D wanted to visit their favourite bookshop. It's never overly busy in there and they can browse books in the large children's area without getting over-anxious about other shoppers.
We've become quite knowledgable about trying to time it right, so that lunch is had in the quieter Burger King, if I want a coffee (silly question!) then again, it's in a lesser-populated shop, one where I can drink my coffee, whilst T and D wear down the batteries on various devices.
The main streets in town were quite busy today, but this meant D's singing in her buggy of Joseph songs (which seems to be permanently at the moment) went on the whole unnoticed.
D (and T) put up with the bits we had to do beforehand because of the incentive of the bookshop; T eager to choose and read another book, D wanting to pick a Schleich unicorn that she's wanted for ages: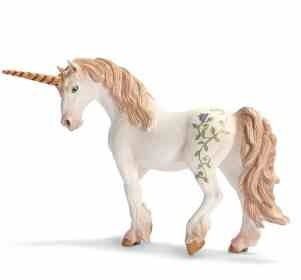 Destined to become one of the "small things" that she carries around with her, that was the plan.
Disaster when we reached the shop…none on the shelves. Poor D, she'd been looking forward to getting a unicorn for about a month. She'd got to the shelf before us, eager to pick it up and she couldn't cope with the fact it wasn't there…a meltdown ensued.
We had bolting, we had tears, we had anger. We probably had stares too, I don't remember. Eventually we had calm, calm enough for D and I to look on my phone and order a unicorn from Amazon. Good old Amazon!
T, in the meantime, had chosen his book, D happy – now she knew a unicorn was on the way – to browse.
She was extremely tired after using up that energy, recharged once home and fed to splash around, not seeming to feel the cold, brr!
D has an inset day tomorrow, T is back to school, a fact which has caused him some anguish and argument. He's annoyed that they are both not off on the same days, it would make life easier. Anyway…
I hope everyone's had a good day, comments/RTs/shares welcomed Jx 😘
This is a tshirt I bought from Gap today, perfect for D I thought.


Please consider clicking, adding your name and email and voting for me here. The Brilliance in Blogging (BiBs) awards are open for votes until May 12th and I'm shortlisted in Commentary. For more information on the BiBs, please click here.
---
---