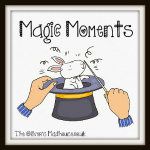 The past week has flown by and I'm linking up with Jaime at oliversmadhouse.co.uk for Magic Moments.
My moment this week is a very recent one, a school-wide production of Joseph and the Amazing Technicolor Dreamcoat.
What's so "magic" about that? You might ask. Well, the school in question is a special needs school, my daughter's school.
For anyone to stand up on a stage and speak/sing can be nerve-racking at the best of times; add anxieties into the mix, specific anxieties that it's a room full of strangers or that your parents are there – why are they in school? They don't "belong" in school, they "belong" at home – and there is the potential for times not to run smoothly.
But run smoothly it did, thanks to the countless rehearsals, the patience of the support staff and the atmosphere.
Even though it was evening performances and everyone was obviously tired, lines were read, dances were danced, songs were sung (in between yawns).
The whole school were involved in one way or another. For example, every class contributed different strips of collage colour to the huge display coat hanging above Reception.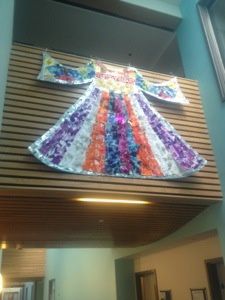 Children who weren't in the main performance had dressed up as corn or stars and their pictures were shown as accompaniments to songs.
My D was a narrator and part of the chorus, something unthinkable in mainstream as anxieties meant she couldn't participate in any assemblies or plays.
The whole performance was a truly magical reminder of how far she and the other children and young adults have come, in the right setting for them, with the right support.
When the headteacher got onto the stage at the end, I thought she would burst with pride.
Here's D in her tshirt, which she was allowed to keep, it has "cast 2013" on the back and everytime we look at that it's going to be a great reminder of the show.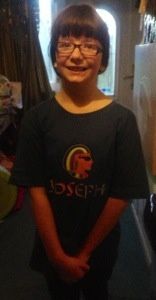 Thanks for reading Jx
---
---