Crisps….ever wondered why my blog is called "bluecrisps"? Well, it's named after D's love of cheese and onion crisps and what she calls them.
I was sent a packet of Walkers Hoops and Crosses to try out with the children.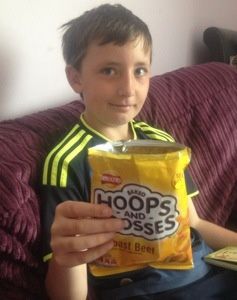 This is what Walkers had to say about the new crisps:

"We understand kids can be cheeky monkeys when it comes to eating what parents put in their lunchboxes. Which is why we've created new Walkers Baked Hoops & Crosses – a great-tasting, low-fat and fun way for kids to boost their wholegrain intake."

The crisps are made with 56% whole grain and as a recent survey indicated that "some kids in the UK just don't get enough. In face 27% don't get any at all", it's a handy way to discretely up their whole grain intake.
The packet we tried out was Roast Beef flavour, there are also Salt and Vinegar and Prawn Cocktail in the range.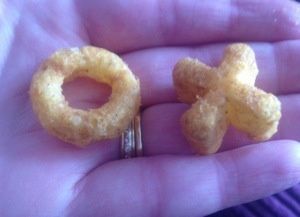 Here's the nutritional information, I was pleased to see that they have less fat in them than other crisps: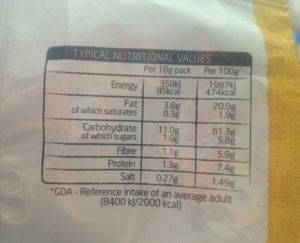 So, how do they taste?
T loved them and, as a child with limited foods he will eat due to sensory issues, that is good news.
I thought they were tasty too and I'm heading off to the supermarket to get some more!
Usually I don't encourage playing with your food but we made an exception in this case…winner ate all!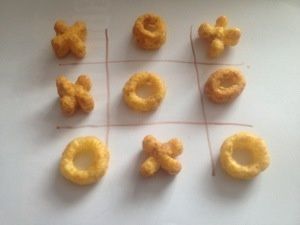 Disclaimer: we received a packet of Hoops and Crosses for the purposes of this review (and the cutest cheeky little monkey toy!)
---
---