The Law of Sod dictated that, once again, D would be awake early. But instead of bounding into our room, she stayed in her bed, crying because she was hungry. Strange…this is something she used to do up until a couple of years ago, stay there and wail until someone (usually me) went in and said she could get up. Hopefully it's just a one-off.
My girl is very governed by her belly and since she's learnt when something is o'clock, has got even stricter. Our clocks tend to "ping" on the hour as well so she's very aware when it's breakfast/snack/lunch/snack/dinner time. Very aware.
T seems to work to just before the o'clock, he'll remind me ten/twenty minutes beforehand.
Thankfully the first half of the day went okay, after the rather shaky start.
This afternoon was a trip to the shops, timing purposefully chosen as afternoons are always (much) quieter in our village.
The majority of the journey was spent blowing dandelion seeds, cheeky little monkey! I always make sure she aims away from gardens but she was mostly aimed at me today. Hello hair…meet dandelion!
Journey there: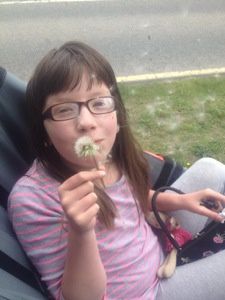 Journey back: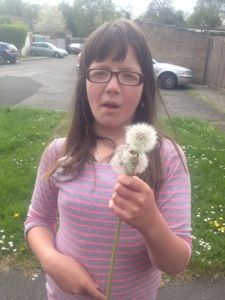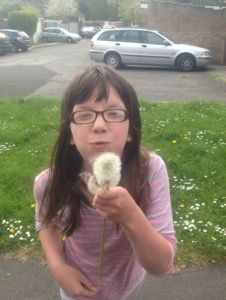 She did very well up at the shops, predominantly because it wasn't busy, and was overjoyed she spotted a pink windmill toy in the kitchen of our local Costa (she misses nothing, my little magpie) and the staff gave it to her. A combination of windmill/dandelion blowing all the way home, until someone walked near us and then she'd freeze – statue-like – until they'd passed. Bless her.
T's had a much needed relaxed day at home after his week. He's still managed to fit in his calming mechanism (of bouncing on the trampoline with a ball, commentating) and watched a televised football match but he's been less busy, and that's done him good.
They both want to head into town tomorrow so *fingers crossed* it won't be too populated. We'll make our list and aim to stick to it, no sneaking off into Phase Eight for me!
So, a tricky start for us but it got better. I hope everyone's had a good day, comments/RTs/shares/votes (!) as ever welcomed, thanks for reading Jx 😘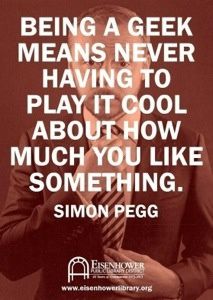 Please consider clicking, adding your name and email and voting for me here. The Brilliance in Blogging (BiBs) awards are open for votes until May 12th and I'm shortlisted in Commentary. For more information on the BiBs, please click here.
---
---