So, one month ago I posted this (click to read), my sponsored weight-loss to raise money for the National Autistic Society, a charity very close to my heart with two children at either end of the spectrum.
I've been updating every week with #WobblesWednesday on the lifestyle blog, and I'll be updating monthly on the 3rd on here.
April was summed up for me in this post here, I've cried tears of sadness and tears of pride.
My loss this month:
2lbs
(there were two weeks when I stayed the same weight, unsurprisingly considering it had been my birthday during one)
My loss so far this year:
1stone 5lbs.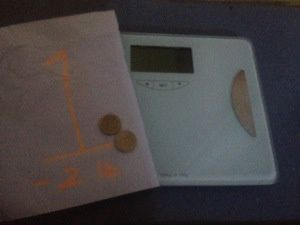 £2 from me going into the collection tin.

Who would like to match me with a £2 donation please?

Here's how to donate:
Either text AMUM76 £amount to 70070 to sponsor me
Or click here to visit my JustGiving page.
All donations gratefully received.
I need to thank the following people for their donations in the first month:
@eamsemma, @jdhoney1, @clkh_, @natalie_elliott, @cherylmoules, @emzamy, @mamaasp, @allykateyes and @seasidecol, @cherriemayhem, @oliversmadhouse, @everhopeful1000 and 2 x anonymous.
This image would be me….it's called "One At A Time Please", I love it!
Our day:
It's been a long and tiring one for my two. D especially tired after the final performance of Joseph – here's a picture of her in her commemorative t-shirt: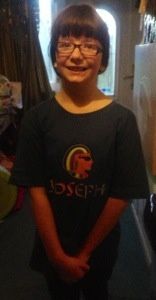 And T because he's completely focused on tomorrow, the result of a game to be played by another team will determine whether his team finishes 1st or 2nd in their league. He's worked out all the permutations for a win (with various scores) and a draw so it's quite nail-biting!
Both very tired this morning, very cuddly and very reluctant.
D bolted when I collected her, a combination of tiredness and the fact I'd left her home-school diary at home so she wasn't able to put it in her bag (silly me!). T was tearful as he was tired and they'd walked a long way to and from swimming.
Both happy to be home, D instantly crafting, T bouncing with a ball. Both instinctively using their mechanisms to calm and regulate.
Once tomorrow (and the league outcome is known) is out of the way, things should be calmer.

Please consider clicking, adding your name and email and voting for me here. The Brilliance in Blogging (BiBs) awards are open for votes until May 12th and I'm shortlisted in Commentary. For more information on the BiBs, please click here.
I hope everyone's had a good day, comments/RTs/shares welcomed, thanks for reading Jx 😘
---
---