The sun is shining, the spring flowers are popping through and it's time to start thinking about the exterior of our homes. The lawnmower emerges from its enforced hibernation and the windows need a clean.
Recently I was sent a Karcher Window Vac to test out and it definitely made the task of window/door washing less messy and much easier!
So, what is a Window Vac?
Here's some information from the Argos website:

This Karcher WV50 handheld window vacuum cleaner is a lightweight and time-saving way to clean smooth surfaces such as windows, mirrors, tiles, shower screens and much more. It ensures streak-free cleaning without drips and even removes condensation. The innovative water recovery system takes in the dirty water before it drips – ensuring a great finish.
3.6 volts.
20 mins running time on full charge.
Capacity of dustbin 0.1 litre.
Total capacity 0.1 litre.
Window blade.
Size H33, W28, D18cm.
Weight 0.7kg.
EAN/MPN/UPC/ISBN: 4039784468993.

How does it work?
The Window Vac works by battery-charged suction, via a button on the side.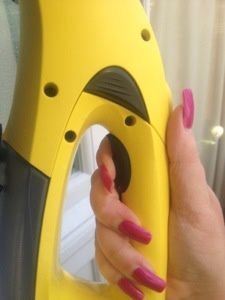 Is it easy to use?
Couldn't be simpler. The Window Vac will need charging up before use – once fully charged, you have 20 minutes running time.
Simply, apply the cleaning solution to your window/door/tiles/mirror: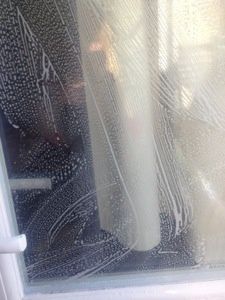 Position the Vac, press the button and move the Vac down as you would a squeegee: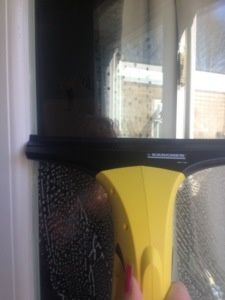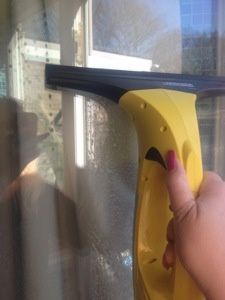 The dirty water/cleaning solution collects in the water bottle at the front of the Vac and …voila! Clean, streak-free surfaces: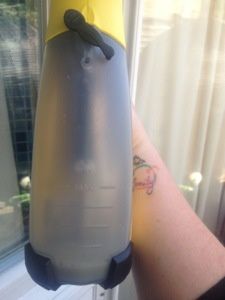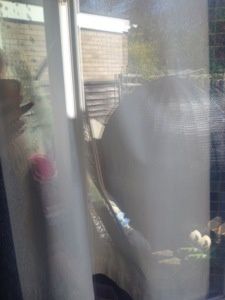 The messiest part of cleaning is applying the detergent/water before using the Vac. As the water collects in the bottle, there is no mess.
I've also tried it out on spilt water on my laminate floor, again a quick, efficient way of quickly clearing up a potential hazard.
Perfect for removing the detergent/water from cleaning windows internally and externally/mirrors/shower screens/tiles and the spill from a hard floor.
The Karcher Window Vac is available from Argos (click here) and Amazon (click here). Priced between £49-£59.99.
Disclaimer: I was sent a Karcher Window Vac for the purpose of this review, my views and words are my own.
---
---