It feels like April whizzed by really quickly, here's a reminder of our highlights (click to read).
Yesterday's blog was written early because D's school had their whole-school production of Joseph last night and there's the final one tomorrow.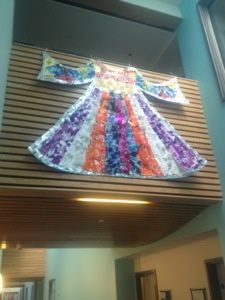 The picture above is of an enormous coat collage that has been on display in reception for a few weeks. Each class concentrated on making strips of one colour – D's class did brown – so it's a school-wide production.
The performance was amazing, as I've said before, D found it impossible to enter the school hall in mainstream for assemblies/plays and there she was last night singing in the chorus and doing some narration.
Everyone did so so well, there were bits that made you laugh (the student who played Mrs Potifer was wonderful, and as for the Elvis Pharoah, he got totally into character), bits to make you cry and clapping, lots of clapping.
The staff did an amazing job putting it all together and coaxing during the performance, brilliant.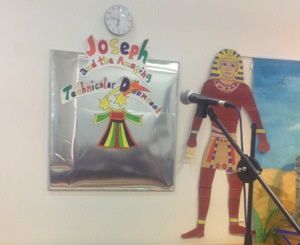 But, a consequence of last night was that I had a tired D this morning, coupled with a tired T – as they'd played their last match of the season last night and unfortunately lost, so they won't know their final league position until Saturday when the number 2 team play their final game. T has already worked out all the permutations of a win, a draw etc.
D went into very well to class and it was nice to hear all the boys saying her name, she's a popular little girl (the only girl in class). Again, such a contrast to when she couldn't enter the mainstream class due to noise/mass of people.
She had a good day, delighted that she's been allowed to make a "rainbow paper diamond" and said I would be proud of the teachers for letting her make it! She also said it was the last show tomorrow and sounded relieved, I think they're done a lot of rehearsals as well as in-school performances. I will miss singing Joseph songs every night though! She was straight in the paddling pool when we got back! I think she'll be using it a lot..weather permitting.
T's had an ok day too, he was disappointed and tired after last night but ok. School haven't said but I'm presuming they have an official copy of his diagnosis now – we received ours Saturday – so hopefully they are making provisions.
It will be a month on 3rd May since I started my "Losing It For Autism", an update will be issued then and monthly thereafter. Here's a link to my JustGiving page.
I hope everyone's had a good day, comments/RTs/shares welcomed, please consider giving me a vote in the Brilliance in Blogging awards, I'm shortlisted in Commentary (category 17), click here to enter the voting process.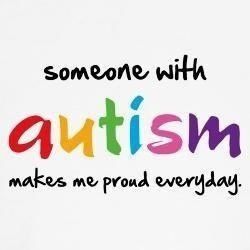 ---
---