It's the last day in April, the end of Autism Awareness Month and for those not living with/caring for someone with autism, May comes around and there's a new initiative to think about.
May is National Brain Tumour and National Stroke Awareness month, amongst other initiatives. All very worthy causes, all deserving recognition.
For the families affected by autism, awareness isn't enough, they need and deserve acceptance. Acceptance of an "invisible disability" that can't be seen or detected immediately by any of the other senses, it relies on people to look beyond their initial judgements and perceptions and that is a big ask.
People lead such busy, stressful lives it would be very easy (and it frequently is) to dismiss the sight and sound of a child/young adult melting-down in a supermarket or similar busy environment as "naughty child and bad parenting" but it's worth taking a second look. Look at the people caring for the individual; are they calm trying to reassure them, offering support? How do they look? I'll bet you, if that child/young adult is on the spectrum, the one thing they're not doing is shouting at them, dragging them away. Because that would make the situation worse. That delays any recovery time.
So, how can this awareness and acceptance be raised? One answer is what you're reading now: a blog, someone's experience of living and caring for someone on the spectrum. I always say that if one of my posts just makes one person more aware, more accepting then it's "job done". Little by little, the tortoise and the hare scenario, we'll get there.
Here is a quote from the National Autistic Society's website:

"Autism is much more common than many people think. There are over half a million people in the UK with autism – that's around 1 in 1002.
If you include their families, autism touches the lives of over two million people every day."

That's a lot, isn't it? No wonder the need for awareness and acceptance is there.
Autistic children grow up to become autistic adults, there is no cure, but very often adults on the spectrum develop coping mechanisms. Again, to the naked eye, autism in adults cannot be seen.
So, what am I going to remember from this month?
A highlight was seeing #WAAD (World Autism Awareness Day) trending on twitter on April 2nd.
A national newspaper included a 16-page spread on that day, containing articles, information and adverts for services. All must have helped with awareness.
Individuals posting photos, demonstrating that autism is indeed invisible. I compiled a photo blog on April 2nd – click here to view – I always think they're very effective.
Two campaigners launched their anti-autism bullying initiatives. Bullying is something that any parent worries about, knowing that your child is more susceptible to bullying as a result of being on the spectrum is a huge concern.
The statistics below are again from the
National Autistic Society website:
"Over 40% of children with autism have been bullied at school.
Over 50% of children with autism are not in the kind of school their parents believe would best support them.
One in five children with autism has been excluded from school, many more than once".
Personally, my birthday. We always go to the same restaurant for celebrations, sit in much the same place and the children eat the same food but it's enjoyable, it's somewhere they feel secure and, as their parent, that's a good feeling.
Our son, T, is now also officially on the spectrum. Click here for the post. It came as no great surprise but it was still emotional.
Unlike his sister, he is aware of his diagnosis and we are able to talk to him about it, on his terms.
The Brilliance in Blogging awards shortlisting was an amazing feeling. I'm still not sure that I have a rightful place there, my blog is an acquired taste after all, but I'm so pleased that it's there. Please consider voting and helping me reach the finalists stage, you can do so by clicking here , adding your name and email address and scrolling down in each category to vote. I'm in the Commentary section, which is numbered 17.

This badge is (very) proudly showing at the top of the blog too.
And, tonight I'm going to be watching D performing in Joseph. This would have been unthinkable in mainstream – she physically and emotionally couldn't access the school hall for any assemblies and plays – but, in the right setting, with the right support, she's flourishing.
A month of definite highs and lows, a month in which I've laughed and cried. I'll still be here tomorrow, blogging away, thank you to everyone who reads, RTs and comments, I'm more grateful than I can say. Jx 😘😘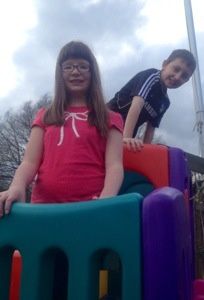 ---
---