It's been a very down and up day today. It didn't start too well, T and D were squabbling and falling out before the school run, over a magazine!
T likes his magazines to be his property, kept pristinely, if there is a fold/rip or tear, it's ruined in his opinion. Despite this, it doesn't stop him at times from leaving it somewhere where it could receive such treatment and unfortunately D choose to sit too near it, he took offence, she retaliated…and a was a lit match scenario.
It was a relief to leave for the school run!
Once T was safely in his school, I had to go to his school's office to drop off some money and took D in with me, in her buggy, as it tends to get too crowded for her as she'd more-than-likely try to bolt. When it came for us to leave, we waited for a whole group of mums to come in, holding the door open, not one smile, not one "thank-you", I felt as if we were invisible. D in her big buggy too. One of them is the subject of tonight's revisited post and it's a shame that ignorance/apathy is so wide-spread in a mainstream school with 1/2 autistic children in every class.
Anyway….
D's had a good day (after that not-so-good-start) she practically bounced into class, eager to show everyone her X-ray picture from yesterday. Lots of very interested children and staff and D enjoyed telling them about the "controlled area" sign.
Her good day continued, they did a presentation of the school play (Joseph) to the school today and it sounded like it went very well. I can't wait to see the production next week but have been warned that I'll need tissues! She's continued singing the songs from it at home, our little songbird.
Tomorrow will be a new experience, the local sports centre is starting special needs Zumba classes, she may enjoy it, she may not. There will definitely be initial anxieties but we'll pop along and see what it's like.
T's day improved too, he was tired but happy when we collected him. He's been buoyed along by the thought of playing football matches tomorrow, Sunday and next Tuesday, his team have virtually won their league…just a few more points needed. It will be a real boost for him after this week.
Tonight's revisited post is below, a primary reason that we don't tend to visit our local parks at peak times. Maybe an extreme experience but one that is very familiar in terms of the stares/comments when you have special needs children:
Prejudice in the park
You'd like to think your child wouldn't be subject to discrimination and ignorance in a park, wouldn't you?
Not so. It was near the end of the school holidays and I decided to take T, D and the two girls I was looking after to the park near us.
If we go to this park, I tend to go just after lunchtime as it's normally quiet.
The park was empty (phew) apart from one mother with two young boys – probably 5 and 6 years old. They were telling each other to shut up quite aggressively and she wasn't correcting them, just looked really fed up, so I positioned the children at the other end.
My group started playing hide and seek and all was going well, D joining in nicely. The older boy shouted if he could join in and, as D ran past she answered "no" – not nastily, not aggressively, just "no".
I decided not to intervene, after all, if the mother was happy to let her children say that to each other, I didn't really want them playing with my lot. I was going to go over and explain to the mother why not but too late:
"Your children are rude and you're rude" I got shouted at. I started to try to explain about the autism but no "I don't care about that, they're rude and you're rude. Come on boys, we're leaving, away from this rude woman".
It was easier to just turn my back on her and her refusal to listen.
Charming eh? What hope have her children got of accepting anyone who is not the "norm" with a mother like that.
Thank goodness for places like Taplow, is all I can add.
I'm glad it's the weekend, I hope everyone's had a good day, here's a quick plug for the BiBs (Brilliance in Blogging), I'm shortlisted in the Commentary section, please click here for the link to vote. It would be amazing for autism awareness to get to the next stage.
Of course comments/RTs/shares as ever welcomed, thanks for reading Jx 😘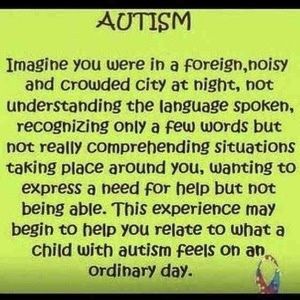 ---
---