I'm going to start with a revisited post because that's how I was feeling this morning. It eased off after a darn good cry but that's the question I was asking this morning…
Why?
Got a few questions buzzing around my head….
Why is this Government attacking the vulnerable and needy in society? Forcing people who are medically incapable of looking for work, taking vital money from others? Causing people to literally worry themselves to death?
Why, when a woman on the Isle of Man goes public because her autistic daughter has been refused DLA renewal and questions that decision, is she mocked and attacked via comments.
Why did I believe an MP who told me "David had a disabled child, he won't take anything away from SN children"
Why is the statementing process so long-winded and quite honestly, painful. You want to scream out and say "my child is a human being, not a budget figure"
Why is autism on the increase?
Why has D got autism? Why has T? Why is she severe and T high-functioning? Is it me, or Hubbie?
I walk past a secondary school every day and see all the teenagers laughing, joking, running around without a care and think "don't they realise how lucky they are?" I know there's plenty of teenage angst but I can't envisage D or T as care-free teenagers. Why? I just can't.
(Adjusted slightly from last June to reflect T's diagnosis but the questions remain the same and, in the most part, unanswered. I doubt some ever will be.

Anyway..our day:
D went into school very well this morning, primarily because she knew I was picking her up early today as she had a hospital appointment.
She was overjoyed to see me early and went into great detail about the contents of her little bag full of "small things" whilst we waited for the bus. Two women dressed in burkhas arrived at the bus stop too and I thought D would either be scared or ask me why they were covered up, but I don't think she noticed them. I found that strange, she's normally got a very high stranger anxiety, maybe it's because she couldn't see their faces. Maybe (and probably more likely) she was so engrossed in her bag.
She did very well at the hospital, we had her appointment in the children's clinic so it was very visual, displays hanging from the ceiling etc, plenty for her to look at.
The doctor decided on blood tests and an x-ray today so we had to wait for the "magic cream" to work for the blood test and then a play worker and I distracted her whilst two nurses did the bloods.
The X-ray was a different matter. There wasn't anywhere quiet to wait and we had to wait in a very busy, very impersonal waiting room. Lots of trollies being wheeled in and out with the occupants moaning about the amount of people waiting.
We found a quiet corner and (kind of) occupied ourselves by counting the pictures/chairs/tables/playing on my phone, anything to about D getting over-anxious and then the looks/comments would invariably start.
Finally we got called and the lady took us around a different way because she said it was quieter. A relief to say the least.
D was fascinated by the X-ray machine and kept her hand very still. The lady let us see the picture afterwards and explained a bit about the bones/joints etc.
Here's a very elegant hand X-ray: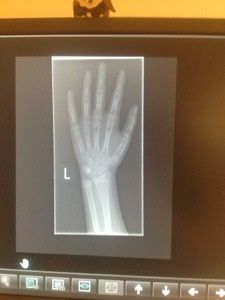 The extra tests meant that we got home later than anticipated and therefore the evening routine has all been a bit delayed. She's settled now though.
I've barely seen T today, my little man. Hubbie picked him up from school and then we got back five minutes before they left for football training. Back in time to watch their team on TV *sigh*.
That's life at times though, but at least any extra tests were done on D today and we go back in three months for further discussions.
If you enjoy my blogs and would like to vote for me in the Commentary section in the "Blogging in Brilliance" awards, pleased click here for the link and scroll down to click to vote. Thank you!
I hope everyone's had a good day, comments/RTs/shares/welcomed, thanks for reading Jx 😘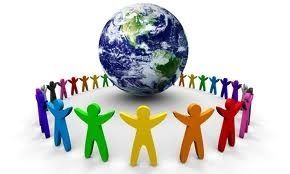 ---
---