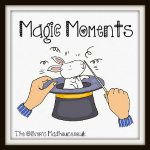 It's Monday (again, the weeks are flying by) and I've linked up with Jaime at oliversmadhouse for #MagicMoments.
My #MagicMoment first happened 9 years ago and carries on daily, to a certain extent.
Whizzing back 9 years and 4 months….
we had a decision to make. We were all living in my little 2 bed terrace with its blue outside (which is how I met Mr Bluecrisps), there was me, Hubbie, 10yr old C, 14 month old T and my belly…5 months away from producing D. We were cramped already, it was time to consider moving from the house which I'd brought with my ex, where C was brought up and where T arrived, in the living room, on the floor (that sounded a bit like Cluedo..guess where the baby arrived).
We had our little house valued and started looking around, I found a house very quickly and phoned up, only to be told the buyers were fed up with a lack of response and going to another agent. I asked if we could still view it with them, he checked with the vendor and came back and said no. Disappointing but I thought maybe it would appear with new agents in the following week.
It did! We went to view it and I fell in love with it. It was perfect, just the right size for us, the garish orange paint everywhere was slightly off-putting, that and the fact the vendor had had a fry-up just before we arrived so there was a greasy-spoon-cafe aroma and feel to the kitchen but..ideal for us.
We put in an offer and said we were putting ours on the market immediately, which we did and we had a firm offer within 6 days. Brilliant, all systems go. My tummy filled with D getting ever bigger.
Then the fun started…
Our buyer went on holiday just as we were about to exchange, without telling anyone, it got better…
Our seller's wife had a nervous breakdown so he was focused naturally on her well-being and getting what was causing her the stress (the house) sorted as quickly as possible. He would phone us, asking what was going on practically daily. I could only look at my packed boxes and wonder.
At one point we considered halting everything and waiting until after D had arrived, the additional stress was not needed.
Finally, we had a completion date. Our money went through by lunchtime but (typical) our buyer's hadn't gone through by then. More phone calls and until you actually hold the keys in your hand, you don't believe it.
But eventually we got there…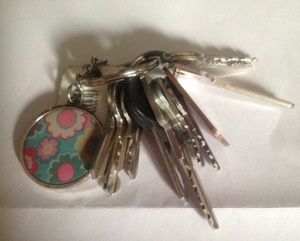 Our home. D was born in our bedroom 6 weeks later, one week early.
There may be times when I cannot stand living next door to who we do – the noise that pounds through the walls on a Saturday evening when they decide to "entertain" and the fact we're right near a woods used for dog-walking so everyone drives up in their cars to walk their dogs and because they don't live there, there is a fair amount of p o o.
But it's our home, the only family home that T and D remember, our joint names on the mortgage.
And that IS difficult some months, keeping everything ticking over on one sporadic self-employed wage, but we do and we will, a secure base for the children.
Because the children have special needs and, particularly D, find certain outdoor environments challenging (she has a severe stranger anxiety), the back garden is their haven. To anyone walking past with its trampoline, apple day bed thingy, climbing frame and framed pool, it might seem like they're spoilt, to T and D it's a place to play, to enjoy themselves, to be happy children and that's always a Magic Moment.
Looking forward to reading some more Moments, thanks for reading Jx 😘
---
---