Music is so evocative, isn't it. A particular set of notes or a couple of lines of lyrics can instantly transport you back to good or bad times, first love, wedding dance etc.
One of the reasons I enjoy compiling my "Music Monday" posts is to rediscover songs I haven't heard for a while, to take a look at the lyrics and have a go at analysing them. Always fun!
Sometimes when we arrive at D's special needs school there'll be one of the music staff walking around, strumming his guitar. It instantly changes the atmosphere, making it more relaxed.
We had a BabyMusic CD when D was a toddler, prior to diagnosis and Melatonin and the CD did soothe her and relax her prior to sleep.
This is what BabyMusic have to say (taken from the website):

"Studies have shown that playing classical music can have beneficial effects on children's creative and cognitive development, improving memory and concentration while fostering general well-being.
The recordings in this section are purely musical, with no narration or commentary. Listening during pregnancy and the early years helps lead to life-long, rewarding experiences with classical music."
I was sent a couple of BabyMusic CDs to listen to with D and we've found them lovely to listen to. D especially enjoyed "The Snowman", narrated by Chris Jarvis (CBeebies presenter).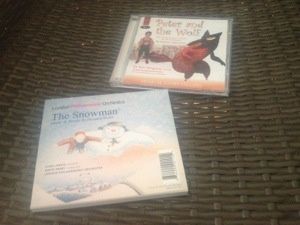 Plenty of classical and story telling CDs to choose from on the site, click here to visit the shop.
Disclaimer: I was sent two CDs to listen to. My words and views are my own.
---
---