I remember Home Economics in secondary school, not so much for what we learnt, but what we made.
There were various recipes like Pineapple Upside Down cake and, very memorably, Mango Chutney. Memorable because the jar smashed in my book bag and everything was covered with a slimy mango concoction! I can never have poppadoms without being reminded of that smell!
I guess the most important things I gained from those lessons were basic cookery skills, how to make a roux sauce, the components and timings for basic cookery.
I want to pass these skills onto the children, enabling them – in time – to be able to make basic bits and pieces. In D's case, it's especially important. I think back to the dementia Coronation Street story where the adult woman tried to make cheese on toast in the toaster, put the toaster under water to wash it and electrocuted herself. Something that if you didn't know, might be an instinctive reaction to do.
So, I'm starting to compile a folder with basic tips and hints for simple meals and snacks, including – in time – things like making tea and coffee.
I've put something in this morning, for baked beans on toast. It sounds easy and instinctive but special needs children find it easier if things are detailed out clearly.
Baked Beans on toast:
You will need:
Two slices of bread, tin of baked beans, knife, fork, plate, breadboard, butter, non-stick saucepan, wooden spoon.
1. Put two slices of toast into the toaster and push the switch down to toast.
2. Open the tin of baked beans and put the beans and sauce from the tin into a non-stick saucepan.
3. Put the pan onto a medium heat on the cooker, put a wooden spoon in the pan.
4. The beans will start to bubble, this means they are cooking. Give them a stir with the wooden spoon. Do not use a metal spoon, it will become too hot.
5. The toast will "pop" in the toaster. Take the toast out carefully and put it on the bread board.
6. Take some butter from the fridge, spread some butter on the toast with a butter knife.
7. Put your buttered toast onto a plate.
8. The beans should now be cooked. Turn off the cooker. The saucepan will be hot.
9. Put an oven glove on to lift the saucepan by its handle and tip the beans on top of the toast on the plate.
10. Enjoy your beans on toast!
11. Now put your dirty plate, knife, fork, saucepan and wooden spoon into the washing up bowl, ready for cleaning later.
There will be pictures too as D responds better to visuals.
She is also very sensory and we always use aprons – John Lewis do some great ones – perfect as she has a tendency to want to wipe her hands immediately down her clothes if any food stuffs get on them.
So, that's our first recipe in our folder. We'll be trying out and adding a new one each week or so. Good practice in those all-important life skills for her, reassurance for me.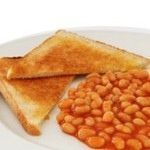 Disclaimer: This was a sponsored post for which I received a monetary fee. All views and opinions are my own.
---
---