I'm linking in with Jaime at oliversmadhouse for another "Magic Moment". I enjoy thinking about these and revisiting them.
As regular readers of my blog will know, my daughter (D – 9 years old in May) is at a special needs school. She wasn't physically and emotionally able to cope with the mainstream class environment and we moved her to her current school 3 years ago. Click on here for a post on our mainstream experience.
Of course, some children cope very well at mainstream but, for us, the choice was between her continuing at a school where she wasn't happy in the hope she would eventually "conform", then secondary school – with all the issues that presents – then exams or a special needs school which would not necessarily lead to a qualification but she'd be learning life skills and – hopefully – be happier and able to participate.
It was a difficult decision to make but one that was made easier once we'd visited the SN school. We chose her happiness and wellbeing over qualifications.
The first morning was quite nerve-racking, D would previously have issues with even entering the mainstream classroom, let along participating in a class environment – would she go into her new class?
The answer was a resounding yes, the previous visits had helped, the smaller class sizes (8 pupils, 4 staff) and the friendly welcome meant that she did.
For the first time in years, I walked away from school feeling happier.
My "magic moment" came at the end of the day. Something which is "magic" every time it happens.
I had a "Mumma" shouted, she ran towards me with a very happy face and I got a body-slam and a big hug.
Previously I'd be outside the mainstream classroom, they'd let her out and she'd usually run off in the other direction, over-whelmed by built-up emotion from her day.
There are some days I don't get my body-slam; sometimes she's tired, sometimes another child has been annoying her but, instead of bolting, she'll come out quietly looking sad, we'll have a cuddle and a chat and (it might take until bedtime) but it will be sorted and then the next day we'll be back to "Mumma" and body-slams.
A small moment for everyone else, but magical for me. My only concern is that she's growing up fast and strong, one day she's going to bowl me over with her enthusiasm. But if that means she's happy and had a good day, I can take it!
And of course, knowing that she's happier means I can take some respite time during the day without worrying, even if it's just a coffee and a magazine. Something I couldn't do previously, my nerves were shot to shreds, waiting for the phone to ring.
She's back at school today, looking forward to being greeted with a body-slam later! The morning didn't start well but a Worry bag helped us this morning, another "Magic Moment"!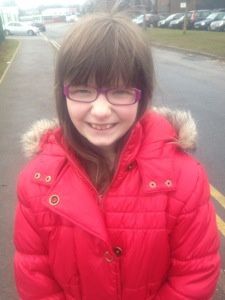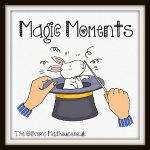 ---
---