It's my birthday today, I've had some lovely cards – D made one herself out of paper and wrote in it, one to treasure – and we've all been out for the day.
We seem to have this regular restaurant that we go to now for family celebrations, it's called a steakhouse but I realised this afternoon that neither Hubbie or I had actually tried the steaks in there…next time. Anyway, because it's away from the shops, on the other side of the river, it's generally not crowded and we can request a booth – to prevent any bolts – and T and D always know what they're having before we go.
They both did really, really well in there. There were a few flaps of excitement but to be honest, the business woman in the next booth was making far more noise, moaning about her child, then her childcare, then her co-workers. Hey ho.
Whilst it was lovely during the meal, there is always the gauntlet to be run of passing through a busy shopping centre with a child in a SN buggy.
The post I'm revisiting tonight is one I wrote a year ago, after we'd been out for my birthday last year. Every sentiment remains the same, I wonder if I'll be revisiting it next year?
Here it is:
I wish that NT parents would read this. I wish …
that you would not judge based on initial impressions
that you would realise that she is not lazy if she is in a SN buggy, she feels "safe" in there.
that you realised that staring, pointing and whispering affects her whole family. We notice even if she doesn't.
that you appreciated how much effort it takes her to sit still in a busy restaurant with the noise that that generates. If she flaps that is her way of dealing with it.
I wish that you took the time to make yourself aware of autism.

Stares/whispers aside, it's been a nice birthday. I made the mistake of deviating from the planned timetable though to persuade T to have his feet measured and new shoes, a big mistake, met with immense protests but successfully achieved….in the end. Go me!
So, that's us and me…another year older, another year wiser (I hope), no less determined to get autism awareness and acceptance achieved…THAT'S my birthday wish.
And to achieve my JustGiving target (click to go to my page) too, here's a cheeky plug:
I'm fundraising 4 National Autistic Society & I'd love yr support! Text AMUM76 £1 to 70070 to sponsor me today.
I hope everyone's had a good day, comments/RTs/shares welcomed, thanks for reading Jx 😘
Here's how Bunny's day has been and a cute one of D: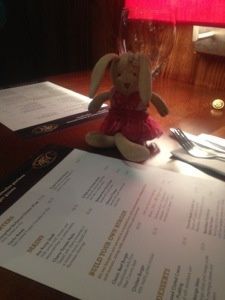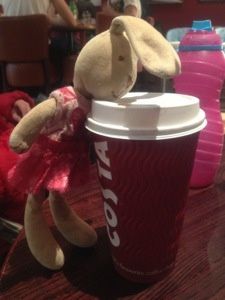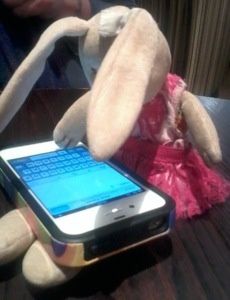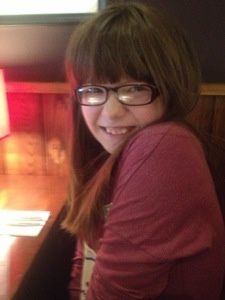 ---
---