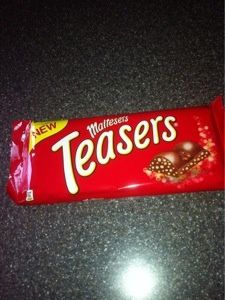 Today's Music Monday is "Temptation" by Heaven 17, a song that always makes me sing along and laugh as I do so due to the different pitches of voices.
Here's the video from YouTube – click to view – I prefer listening to it without the video, sometimes squeaking away to the high notes or low and meaningful a la Glenn Gregory.
Temptation is all around for those who are on diets, very helpful when your twitter friends send you pictures of chocolate bars – yes, you E! – but resist, resist!
This is why I'm resisting chocolate today, but will be partaking of a bit of cake tomorrow:
Here's a link to my JustGiving page as I'm fundraising 4 National Autistic Society & I'd love yr support! Text AMUM76 £1 to 70070 to sponsor me today.
To visit Heaven 17's website click here, it looks like they are playing Glastonbury this year which sounds fun!
Here's the lyrics, enjoy!
"I've never been closer
I've tried to understand
That certain feeling
Carved by another's hand
But it's too late to hesitate
We can't keep on living like this
Leave no track
Don't look back
All I desire
Temptation
Keep climbing higher and higher
Temptation
Adorable creatures
Temptation
With unacceptable features
Temptation
Trouble is coming
Temptation
It's just the high cost of loving
Temptation
You can take it or leave it
Temptation
But you'd better believe it
You've got to make me an offer
It cannot be ignored
So let's head for home now
Everything I have is yours
Step by step and day by day
Every second counts I can't break away
Leave no trace
Hide your face
All I desire
Temptation
Keep climbing higher and higher
Temptation
You can take it or leave it
Temptation
But you'd better believe it
Step by step
Day by day
Every second counts
I can't break away
Keep us from temptation (x3)
Lead us not in temptation
All I desire
Temptation
Keep climbing higher and higher
Temptation
Adorable creatures
Temptation
With unacceptable features
Temptation
Trouble is coming
Temptation
It's just the high cost of loving
Temptation
You can take it or leave it
Temptation
But you'd better believe it
You've got to make me an offer
It cannot be ignored
So let's head for home now
Everything I have is yours
Step by step and day by day
Every second counts I can't break away
Leave no trace
Hide your face
Trying to find it
Temptation
You've got to get up behind it
Put your dime in the hot slot
Temptation
But it's a million to one shot
Temptation
You think that you're right
Temptation
Your gonna face it tonite now
Temptation
Give me a breakdown
Because it's time for a shakedown
Temptation (x10)
Then repeat last verse
Eg.
Trying to find it
Get up behind it
Dime in the hot slot
Million to one shot
Think that you're right
Your gonna face it tonite now
Give me a breakdown
It's time for a shakedown"
---
---