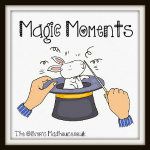 It's Monday morning again and I'm linking up with Jaime at theoliversmadhouse for another Magic Moment. To read Jaime's post for Joshua – click here.
Today's Magic Moment is a bit different from one of my usual ones but it's magic to me.
I've always used my sunglasses as a mask, these together with eyeliner and mascara. The sunglasses are a necessity with special needs parenting – you never know when tears will suddenly come – and the eyeliner/mascara needed because I'm so fair. Click here to read a post from last year when I let the mask slip.
For some reason T has been blessed with the longest thickest eyelashes ever, whilst his sister (D) and mother (me) have short, stubbly fair lashes. I did try eyelash extensions once and they were AMAZING until they started to grow out and then I looked like I had spiders legs above my eyes.
Anyway…digressing madly.
I found out about 3 weeks ago that I needed glasses, no great surprise and I would have been astounded if they'd said I didn't.
Part of me felt a bit disappointed though, I always felt that the eyes were the window to your soul and wondered if I'd be perceived any differently.
T took the news very badly, he couldn't understand why I needed glasses if I could see/read and he got very very upset. He admitted he didn't want me to look any different. D, on the other hand, was delighted, as she's been wearing glasses for a year.
T's reaction made choosing frames very difficult, did I go for obviously kooky frames or something more subtle?
We had to wait until the school holidays to go into an opticians and just hope that T would be comfortable enough to accept frame suggestions that he was happy with.
In the meantime, I bought some frames from ebay and I had a blog review to do for a lenses re-glazing company (click to read) so I sent off the frames and waited for their return. Anticipating that T wouldn't be terribly happy but it would get him used to me in glasses.
When they (the frames) arrived back, I was very apprehensive. Did I copy down the prescription correctly? Would they have read the numbers correctly? Would T be ok? Would I notice a difference?
The answer is yes! Finally here's the magic moment you cry!
Subtitled programmes – which I have on at night if Mr Bluecrisps is doing his best impression of a warthog next to me – are clearer to read, it's like everything is more defined. My eyes don't feel so tired at the end of the day either.
Here are my current frames:
T doesn't like the pink bit at the the top but we've now been and chosen some rimless frames so these will be spares.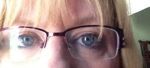 Here's the rimless ones, they have an obligatory bit of purple in the frame arms and T is happy with them.
Free sunglasses too in the deal from Boots.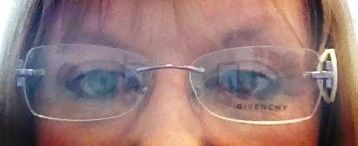 A good example of the improvement is my front door, from a distance it's now more defined. All the . Subtle but noticeable difference.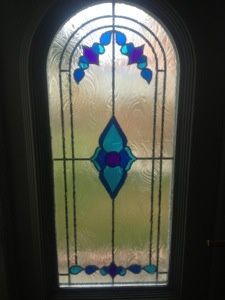 Because I only need them for distance – not reading – I can do the glasses-half-down-the-nose bit and wag my finger, pretend to be stern and look quite daft!
So, purse lighter but eyes happier, I've joined the glasses brigade, but as I said in my Boots Feel Good Forum post – click to read – age is just a number", it's what's inside that counts..me, wife and Mumma.
---
---